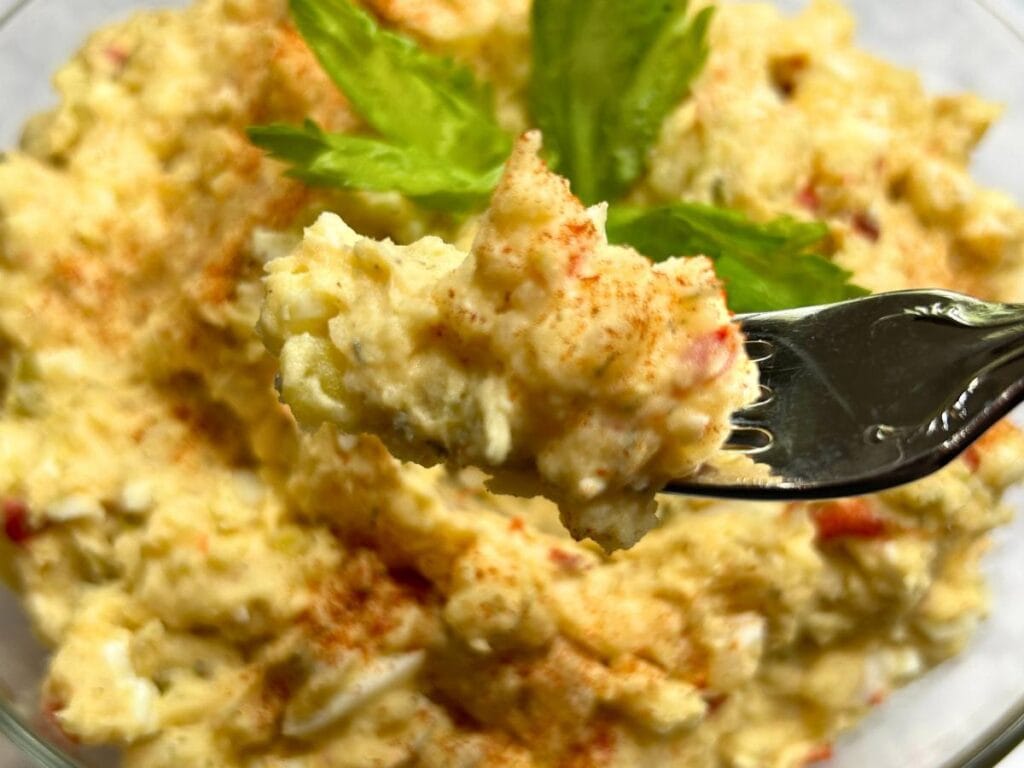 Potato Salad
I've been making potato salad for more years than I care to remember. And anytime my husband wants potato salad I'll try to say I'll run to the Piggly Wiggly and get some…..and he always says the same thing…"but I want yours."
Anytime he comes back from shopping with a 5# bag of potatoes, I know what is on his mind.😆😆
4-H
I'll get to the recipe shortly. The first time I ever made potato salad was a 4-H task that had to e completed. 4-H was about the only extracurricular activity we had in school growing up, except for sports. So I did both))
head heart health hands
4-H
For more than 100 years, 4‑H has welcomed young people of all beliefs and backgrounds, giving kids a voice to express who they are and how they make their lives and communities better.
4-H projects are important means for achievement and growth, members build skills they can use for the rest of their lives. 4-H educational experiences are built around life skills that center on positive self-esteem, communication, and decision-making. Citizenship and leadership skills, learning how to learn, and the ability to cope with change also are important parts of 4-H educational programs.
So one 4-H project that I remember was creating a recipe file. We all had to buy a little metal file box and white index cards. Each time we prepared a recipe from the instruction book or other source, we wrote it down on an index card and filed it away. That's when I made my first potato salad. I still have that army-green metal file box somewhere! The last time I looked at it, I was flabbergasted at my misspelled words!
When we had our 4-H meeting days at school, we would wear our green and white pinstriped dresses with the 4-H emblem sewn on the pocket. Sometimes there would be events like parades downtown and on those days we would also wear a white beanie (hand crocheted by my mother).
Potato Salad
Ingredients you'll need for this recipe
How to make Potato Salad
Potatoes – you can use baking potatoes or red, either one is fine. And you can cook them in the microwave or boil them with skins on. I prefer to cook in the microwave, cool them, peel them, and cut them into coarse pieces. They will break up more as you stir in other things. Some people like their potato salad really smooth and creamy or even with the peel on, but we like it with bites of potatoes and no peel.
Eggs – boil for 10-15 minutes, peel them, and chop them up. I know no tried and true way that makes hard-boiled eggs come out nice and smooth every time. Sometimes they do, sometimes they don't.
Condiments – add the chopped dill pickle, sweet pickle relish, diced pimentos, mayo, mustard, and dill weed. Add salt and pepper to taste. Note: We like Duke's Mayonnaise too by the way. I used to be a Kraft or Blue Plate person, but we've joined the Duke's bandwagon))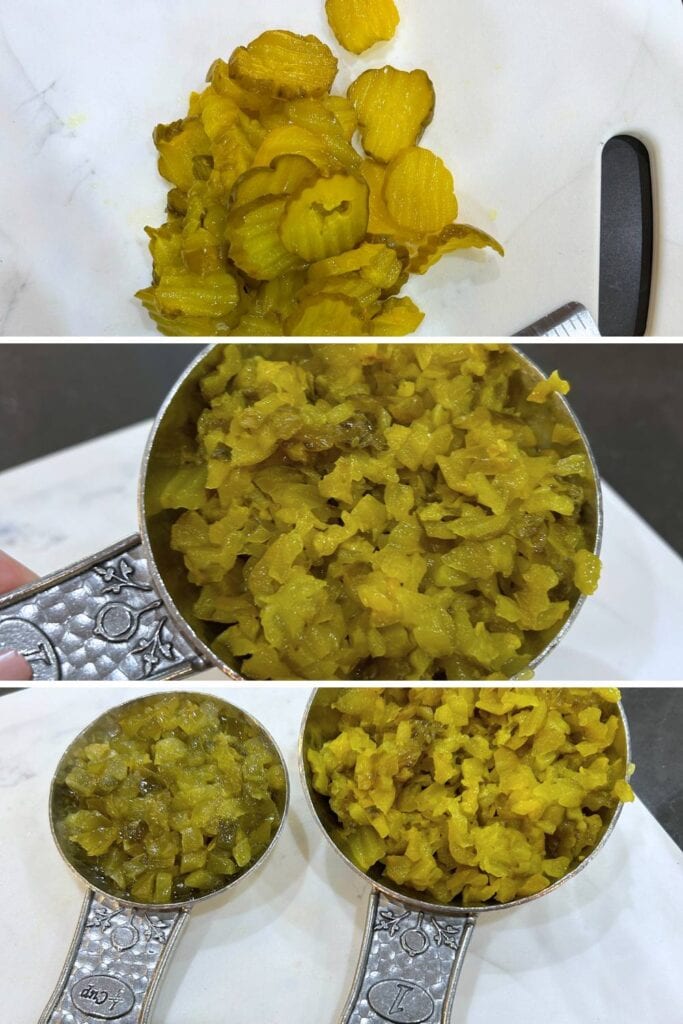 Garnish – as desired. I like to sprinkle smoked paprika and add something green to the top. Today it was just some celery tops, it's all I had!
Chill the potato salad for a couple of hours and serve it cold. Store in the refrigerator in a tightly covered container. It will keep in the refrigerator for 3-5 days, but do so cautiously if you have left it sitting out for a while. If you have left it out at room temperature for two hours or more, I would discard it.
Tips
To keep potato salad cool when it has to stay on the table for a couple of hours, fill a clear bowl or punch bowl with ice. Set your serving bowl with the potato salad over on the ice. Stir occasionally to keep it chilled through and through.
If the potato salad seems a little dry after everything is mixed, add a tablespoon of pickle juice or a bit more mayo to it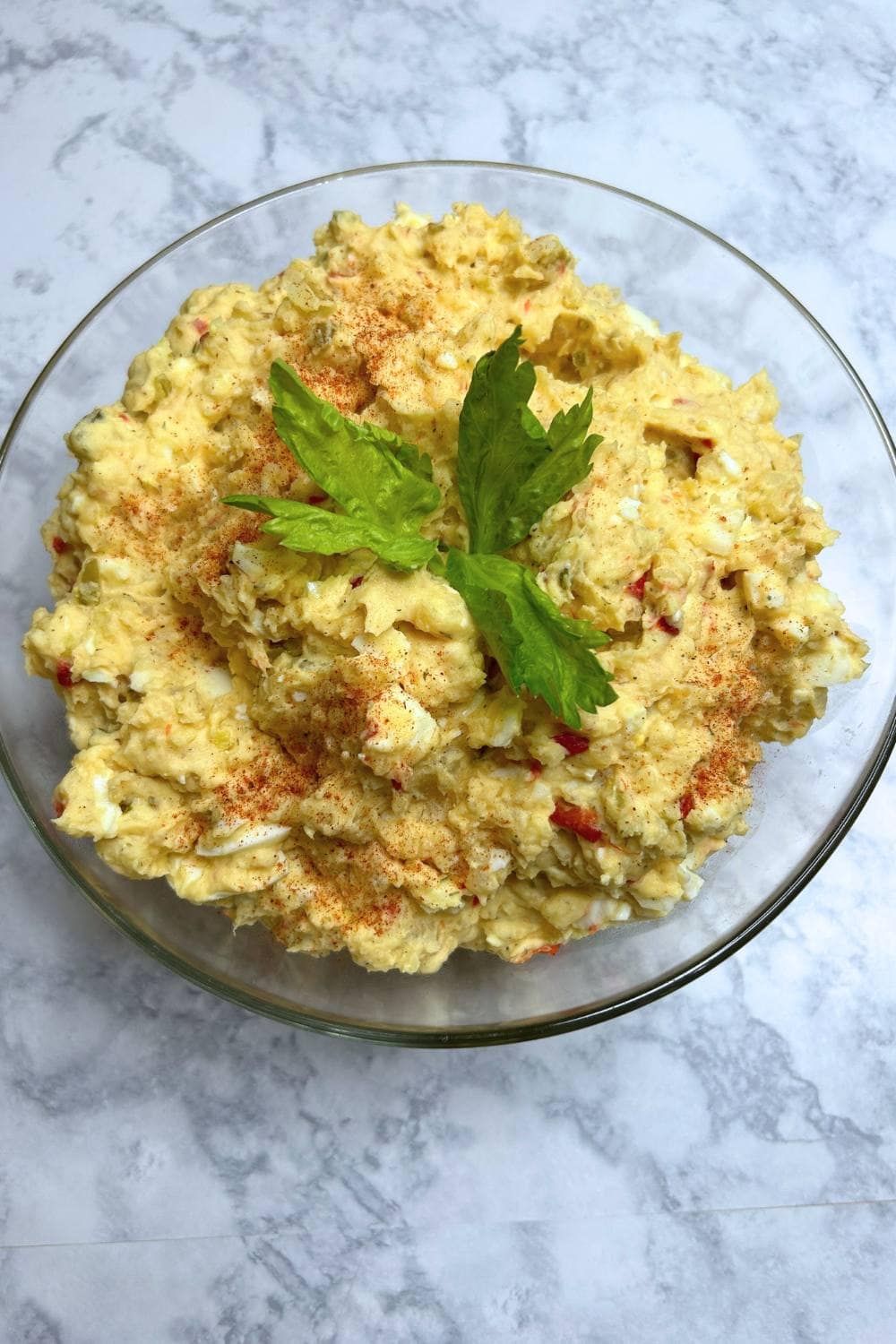 Find this post helpful?
Pin it on Pinterest for later
Print Recipe
Potato Salad
A family recipe for potato salad, it has basic ingredients and is so easy to make. Perfect year -round side for most any meal, especially good with fried chicken and pimento cheese sandwiches for a picnic lunch.
Instructions
Microwave, or boil potatoes until tender. Place in cold water and peel. Chop up coarsely in a large bowl.

Boil eggs until done (about 12-15 min). Peel and chop coarsely, add to potatoes.

Finely chop dill pickle and add to bowl.

Add sweet pickle relish and diced pimento (draining pimento is optional).

Add mayonnaise, mustard, and dill weed. Salt and pepper o taste. Combine well without mashing up potatoes too much.

If it seems a little dry, add 1 T of pickle juice or a bit more mayo.

Garnish with a dash of smoked paprika and something green…parsley, cilantro, or celery top.

Place in refrigeratory until thoroughly chilled. Serve cold.

Store in a tightly covered container in rthe efrigerator.
Video
Notes
Nutritional facts are just estimates and not calculated by a nutritionist.
Nutrition
Serving:
0.5
cup
|
Calories:
201
kcal
|
Carbohydrates:
20
g
|
Protein:
5
g
|
Fat:
12
g
|
Saturated Fat:
2
g
|
Polyunsaturated Fat:
6
g
|
Monounsaturated Fat:
3
g
|
Trans Fat:
0.02
g
|
Cholesterol:
73
mg
|
Sodium:
158
mg
|
Potassium:
471
mg
|
Fiber:
2
g
|
Sugar:
2
g
|
Vitamin A:
288
IU
|
Vitamin C:
26
mg
|
Calcium:
23
mg
|
Iron:
1
mg