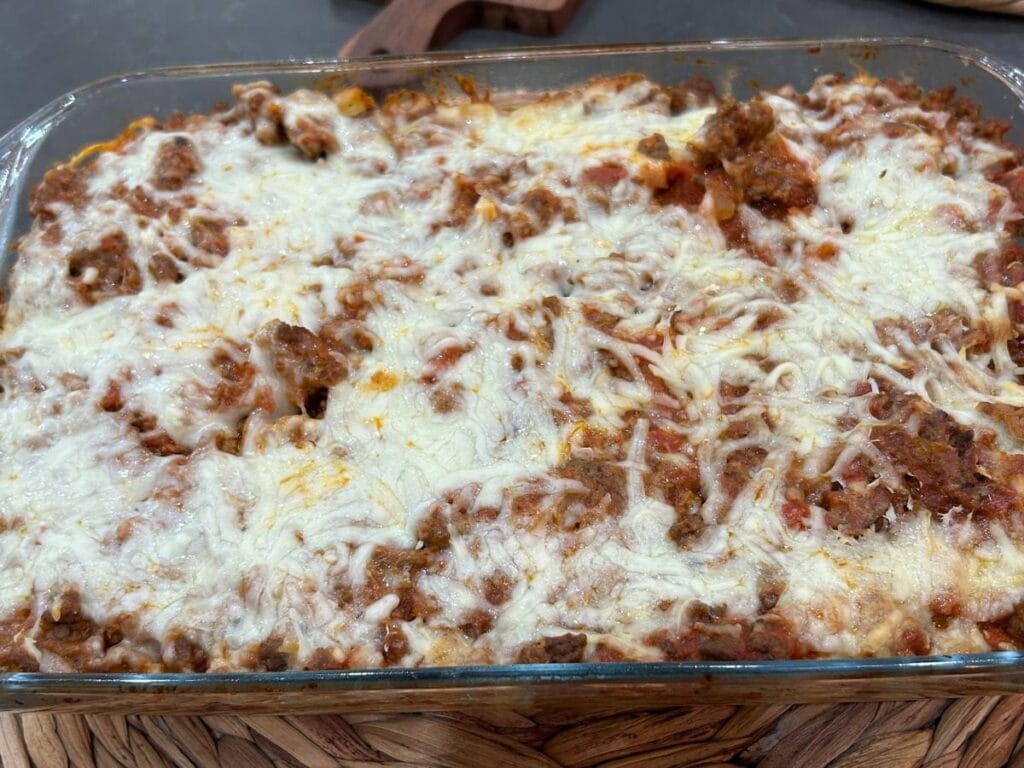 Dinner Idea!
Looking for something tasty for dinner? Try this Million Dollar Spaghetti recipe from Southern Living. Now there are many recipes out there with this title, all with just a little difference here and there. And I imagine they are all good! It's a lot like lasagna but with spaghetti noodles instead. I'm going to list the ingredients, and then just give you a link to the Southern Living page for the directions.
Million Dollar Spaghetti (Southern Living)
Ingredients you'll need for this recipe
Putting it all Together
My Take on the Recipe
Amount
We loved the Million Dollar Spaghetti recipe, no doubt it))) It does make a LOT! It filled a 9″ x 13″ pan completely, along with a small tin foil loaf pan for later. Our grandchildren ate with us and we still have an abundance of leftovers to go in the frig or freezer. Next time I'll be better prepared and have pans on hand to go in the freezer.
Ingredients
Meats
The ingredients are simple enough, but I found that the smallest packages of ground sirloin and bulk Italian sausage that I could buy were pound packages. So I used the whole two pounds.
Marinara Sauce
Southern Living recommended Rao's marinara sauce, 32 oz. The only jar available at our grocer was a 24 oz jar for $6.88; as compared to Barilla 24 oz for $2.52. Ordering a 32 oz jar of Rao on Walmart's site would have been $18.99!
So I bought one 24 oz jar of each, and now I have leftover marinara sauce.🥺 Looks like I'll need to make some cheese sticks or something.😀
The sauces smelled the same and I really couldn't tell any significant difference in the taste, but the carb count is lower on the Rao. Interestingly, however, the calorie count was higher on the Rao than on the Barilla. So I guess you just have to choose your poison))
Also, the recipe called for adding butter and 1/2 cup marinara sauce to the noodles, to help keep them moist during the baking. In hindsight, next time I'll add a whole cup of marinara instead of just 1/2 cup. There was plenty on hand and it wouldn't have hurt for the noodles to have been a little more moist after baking.
Salt, Pepper, & Garlic
I didn't have fresh garlic, so I used a little garlic salt. We're not huge fans of garlic anyway. Note that the recipe does not call for salt and pepper. I thought that was strange, so I added a little salt and pepper to the meat sauce and salt to the noodles.
In hindsight, the Million Dollar Spaghetti didn't turn out too salty, but do go lightly with the salt. I could have easily over-salted it with my normal habits. The Italian sausage has seasonings in it….so that could be the reason for no extra salt and pepper.
Cheese
We love freshly grated Parmesan on almost anything))) The recipe called for about 1/2 cup, but it wouldn't have hurt to use more. The recipe also called for 1 cup of shredded mozzarella on top. I didn't think that was enough and used the whole 2-cup package.
Next time I'll probably use the whole 15 oz container of ricotta cheese also. I hate having little bits of leftovers! It wouldn't have hurt to have had more of the cheese mixture to spread over the meat sauce.
Remember to soften the cream cheese before you mix it with the ricotta and Parmesan.
Parsley
I didn't add the fresh parsley, although it would have made an even more appetizing dish. And even though my grandchildren are grown, I knew it would provoke the question "What's that green stuff?" So I left it off)))
Try million dollar spaghetti
I think you'll like it! All you have to do is add a fresh salad, crispy buttered bread, and ice tea….a standard Southern supper!