Skillet Mac & Cheese with Smoked Sausage
Comfort Food
Skillet Mac & Cheese with Smoked Sausage is a Southern comfort food)) It's great for lunch or dinner, and any time of the year.
We love foods baked in a cast iron skillet too. Of course, you don't have to, use an iron skillet, you can put it in your favorite casserole dish. But let me give you a heads up!
This recipe makes enough to fill a 12″ cast iron skillet and two 9″ square foil pans. So unless you're feeding the extended family, you'll have enough for two more meals!
Just cover the foil pans tightly with tin foil and tuck them in the freezer for that day that you don't want to cook)))
Ingredients for Skillet Mac & Cheese
1 16-oz package of elbow macaroni
2 1/2 teaspoons kosher salt
1/2 tablespoons vegetable oil
1 16-oz package of smoked sausage
1/2 yellow onion
1 red bell pepper
6 tablespoons butter
6 tablespoons Flour
3 cups milk
1 cup sour cream
2 teaspoons Tony Chachere's Creole Seasoning
1 8-oz package of pepper jack cheese
1 8-oz package of sharp cheddar cheese
Preheat the oven to about 400 degrees.
Elbow Macaroni
Add 2 teaspoons of kosher salt to about four quarts of water and cook the macaroni until tender. Cooking the macaroni should only take 8 minutes or so after the water comes to a boil. Drain and set aside. Tip: Lay a wooden spoon over the top of the pan to prevent a boilover.
Smoked Sausage, Onion & Pepper
Chop the smoked sausage, onion, and red bell pepper.
Heat the vegetable oil in a 12″ cast iron skillet over medium heat. Add the smoked sausage, onion, and red bell pepper. Cook until the sausage is brown (mine was just more of a darker color and not really brown) and the onion and bell pepper is tender. This should only take 8-10 minutes. Transfer the mixture to a bowl. You'll need the skillet later, so wipe it down and set it aside.
Sauce
Melt butter over low heat and whisk in flour, gradually add milk whisking constantly. The mixture will thicken slightly (about the consistency of thin gravy) after a couple of minutes. Simmer (not a boil) for about 5-10 minutes. Add sour cream, the remainder of kosher salt, and Tony Chachere's Creole Seasoning. Stir well and set aside.
Cheese
Grate the two blocks of cheese and set them aside. You can use packaged shredded cheese, but freshly grated is better))
Assemble
Grease the cast iron skillet with butter (oil or cooking spray) and layer macaroni, meat mixture, and cheese. I was able to make two layers in my skillet. Spoon cream sauce over the mixture.
Please note, that this recipe for mac and cheese is more than enough to fill the skillet, so have other pans or casserole dishes that are freezer safe and ready to fill also.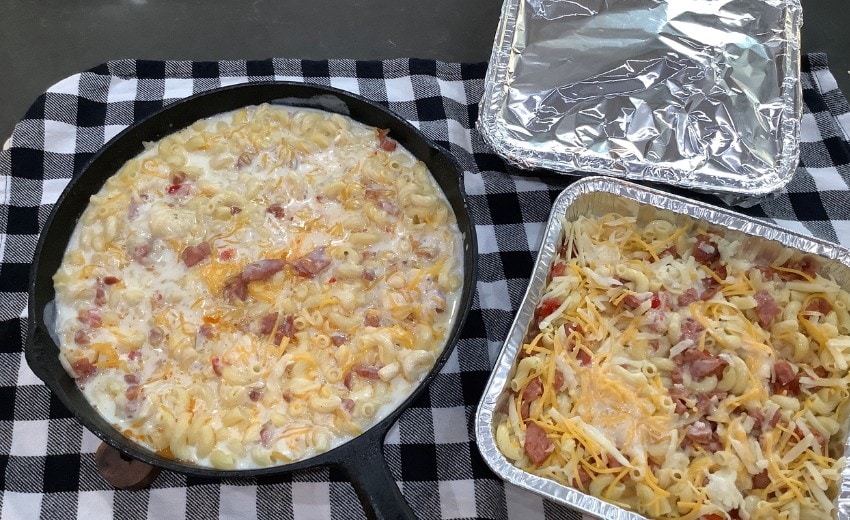 You might want to fill up the skillet first and then do your extra pans, or fill them all three as you go. Once the mac and cheese were assembled in the skillet, I did pour a little extra milk over the top just to give it a bit more moisture. I probably used another half cup of milk (not in the ingredient list). The extra pans were covered tightly with tin foil and placed in the freezer. To cook them later, I will partially thaw them in the refrigerator and probably add a little bit of milk along with some extra cheese on top.
My family loves cheese, so I sprinkled a bit more cheese on top before it went into the oven. Bake at 375° -400° for 20-25 minutes until hot and bubbly. If it needs to brown more switch to broil for a couple more minutes.
Ready to eat! Serve this skillet mac and cheese with smoked sausage hot, with a crisp green salad, side vegetables, and iced tea.
Southern comfort food at its best!
More from My Blog