Reduced Sugar Fresh Peach Pie
Time for Fresh Peaches!
Summertime is the perfect time to enjoy a reduced-sugar fresh peach pie using peaches from a farmer's market or an orchard. We are so lucky in our hometown to have Cherry Creek Orchards right down the highway.
Fresh peaches, plums, nectarines, blueberries, and blackberries taste so good whether they are cooked in pies and cobblers or just eaten fresh with whipped cream. Here's my peach pie recipe.
Here is my version of a reduced-sugar fresh peach pie. It's so easy and doesn't take long to make.
Ingredients you'll need for Reduced Sugar Fresh Peach Pie
Pie Crust
The first thing you want to do for this peach pie recipe is to bake your pie crust. You can make one if you like, but I usually just go with the frozen ones.
Isn't it frustrating when your pie crust puffs up in the middle or cracks! With this recipe, you really need a pie crust that stays intact with no cracks. Otherwise, when you add the filling, it will seep down in holes and cracks and you wind up with a soggy crust. This will happen too if you don't get the filling thick enough or don't let it cool enough.
Cooling is everything! The baked pie crust must cool completely.
Solutions to a Puffed-Up Pie Crust
I was in Bed, Bath & Beyond the other day, and for the first time, I saw a package of pie weights. They were white ceramic balls about the size of a marble. Don't ask me why I didn't grab a package! I guess it was because I was on the hunt for a paper towel holder that will hold jumbo rolls. Next time though….they're going in my shopping cart!
Typically I just make holes in the pie crust with a fork before I bake it, but sometimes you still come out with soggy crusts. If you don't poke holes, it puffs up and the sides may crack. Today I decided to try a substitute for pie weights))
BB's – Who Knew!
Being the country folks that we are, and having had three grandchildren that all shot BB guns when they were growing up, I found a package of unused BB's. They felt heavy enough and were made of steel so I felt they were safe enough to use. I've read that you can use dry rice, dry beans, popcorn, or even sugar to weigh your pie crust down during baking. But anyway, I poured the BBs into an oven-proof bag, double-bagged them, and secured the bag with the tie that's included in the oven bags. Then I just laid it in the center of the pie crust and spread the BBs out.
So far so good! The pie crust was browning nicely around the edges, so I checked the center. It wasn't as brown as it needed to be so I removed the bag of BBs and let it bake a few more minutes. I wasn't sure if it would puff up at that point or not, but it didn't. I guess it had baked enough to get over that. It turned out just great)))
In hindsight, I should have placed a piece of parchment paper under the bag of BBs. When I removed the bag of BBs, the bag was a bit oily. I wiped it off and placed it in a closed container to store for later. Next time, I'll put down a piece of parchment paper first.
Peach Pie Filling
Make the peach pie filling by adding the cornstarch and sugar substitute (you could also use regular sugar if you wish) to the water and stirring over medium heat in a saucepan. The Swerve sugar substitute products have been the best that I have used in cooking. They have granular sugar, confectioners sugar, and brown sugar. I've used them all and love them! Expensive, but I still love them and use them all the time.
The cornstarch provides the thickening for the filling. At first, the mixture will be white, and as it begins to thicken it will become more translucent. Not really clear, but you will see the difference. This only takes a couple of minutes.
Add the lemon juice and packet of Jello and set aside to cool. The filling must be cooled before you add it to the pie crust. It will thicken more as it cools and also more once the pie is placed in the refrigerator. For now, just let it cool on the countertop.
Fresh Peaches
Peel about four or five fresh peaches and slice. I like to use Fruit-Fresh Produce Protector by Ball to keep fruit from discoloring. Sometimes it's not easy to find Fruit-Fresh and the store clerks are not always that helpful. The last I found was in the canning section at Walmart, but here's an Amazon link too. Fruit-Fresh is made of ascorbic and citric acid.
Ball Fruit-Fresh Product Protector – Walmart – Amazon
Just a heads up – the instructions are not on the jar. But here they are:
I just added the peach slices to a bowl with water and Fruit-Fresh then drained the water off when I had finished peeling.
Peach Pie
Once the pie crust and filling have cooled completely you're ready to put it all together. Place the sliced peaches in the pie crust and pour the filling over the peaches. If you have more filling than the crust will hold, just pour it up into another container. You can always slice another peach and just eat it with the leftover filling.
Place the peach pie in the refrigerator for further cooling and allow the filling to set more. Once it's more congealed, you're ready to spread the Cool Whip on top. Spread gently all the way to the edge of the pie crust.
I used just about a whole 8 oz container of Cool Whip, but you can use as much or as little as you want. I've also tried using homemade whipped cream for pies like these, but usually have the best result with Cool Whip especially if you're storing it in the freezer.
White Peaches
My peach pie was made with white peaches. Now it would have probably been a prettier picture had I used yellow peaches, but when the white ones come in at Cherry Creek Orchards, you will find us there))) We love the taste)).
Enjoy! These are easy pies to make and you can just adjust the filling for the type of fruit you are using.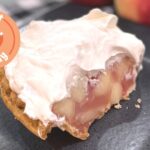 Print Recipe
Reduced Sugar Fresh Peach Pie
Super simple reduced-sugar fresh peach pie using white peaches and a baked pie crust. Top the pie with Cool Whip and store in the refrigerator. Great summertime dessert. Shop for fresh peaches at your local farmer's market or orchard.
Instructions
Bake Frozen Pie Crust. Follow the directions on the package. Cool completely.

Add water, sugar substitute, and cornstarch to a medium saucepan. Cook over medium heat. Stir continuously and bring to a slow boil. The mixture will thicken after a couple of minutes.

Remove from heat and add jello and lemon juice. Stir and set aside to cool completely. The mixture will be about the thickness of heavy cream or thin gravy. It will thicken more as it cools and even more after the pie is refrigerated.

Peel peaches and slice.

Optional: Dip peach slices in a mixture of Fruit-Fresh and water. 2 teaspoons of Fruit-Freash to 3 tablespoons of water. Drain slides before adding to pie crust.

Add peach slices to the cooled pie crust. Spread evenly, maybe heaped up a little in the center.

Pour cooled filling over the peaches, coating evenly. Place in refrigerator until filling has set well enough that Cool Whip can be spread over the top (about an hour or so)

Spread Cool Whip (frozen topping that has thawed in the refrigerator.

Store covered in the refrigerator and serve cold.
Video
Notes
Note: The nutrition calculations are just estimates and not created by a nutritionist.
Nutrition
Serving:
1
Piece
|
Calories:
240
kcal
|
Carbohydrates:
48
g
|
Protein:
3
g
|
Fat:
11
g
|
Saturated Fat:
3
g
|
Polyunsaturated Fat:
1
g
|
Monounsaturated Fat:
6
g
|
Cholesterol:
0.03
mg
|
Sodium:
155
mg
|
Potassium:
188
mg
|
Fiber:
2
g
|
Sugar:
11
g
|
Vitamin A:
408
IU
|
Vitamin C:
5
mg
|
Calcium:
15
mg
|
Iron:
1
mg
More From My Blog
Sugar-Free Fresh Blueberry Topping