Shoutout to Yeti & the Hopper M30
Shoutout!
This is a shoutout to the Yeti Company. Yesterday a new navy Yeti Hopper M30 arrived! Just in time for Christmas, you might think, but actually, this was a replacement soft-sided cooler for one purchased several years ago.
History
Several years ago I purchased two of the Yeti Hopper M20s. One for my husband and one for my son-in-law. I think sometimes that my husband is more attached to that Yeti than me!
It has been a faithful companion and travels with us anytime we go on a trip that is two hours or more. It rides on the golf cart all spring and summer long and sits in the backend of the pickup just about year-round. It has even held ice in the kitchen when we had extra folks for a meal.
It's been around so long we should have given it a name!
Anyway, this is really not a product review, although I do those from time to time. It's really a shoutout to the customer service at Yeti.
Quality
I don't have to tell you about the quality of Yeti products. We have the hard-sided cooler and Hopper along with some cups. The Hopper has been our most-used Yeti product.
The Hopper 20 has a zipper top. I'll admit the zipper has always been a little difficult for me to open. Granted, I'm not a young thing so I've always passed it off on that. But a few weeks ago we were making a four-hour trip so the faithful old Yeti was in the back seat.
My husband was driving and asked me to get him a bottle of water. So I tried opening the Yeti by reaching in the back seat. I just could not get it open! I even unbuckled and reached back that way. It just would not open. So my husband tried by continuing to drive and reaching back. That didn't work either.
He pulled over and got out and tried, but the Yeti would not give up its contents! So, we drove on a bit and when we reached a small town he stopped and ran in a bought a pair of pliers. It was the only way to get the Yeti open.
Damaged
As it turns out, a few teeth were missing from the Yeti zipper and that was the end of that. He got the cooler open and we used it the rest of the trip without it fastened.
Now, a Yeti cooler does not leak. Or our two never have, nor has my son-in-law's cooler. It's safe to sit on wood floors, or in your vehicle. It just doesn't leak. And it holds ice for several days.
Since I had purchased the cooler a few years ago I wasn't sure if there was any warranty on it or not. I almost bought another one without even checking! But the people at Moore's in Pontotoc told me to contact the company.
Customer Service
I reached out to Yeti by way of the company website. You know those "contact us" links at the bottom of a website, that most of the time you never get a response from.
Well, I got a prompt response within 24 hours. Jatin S replied and told me how to proceed. They needed images of the damaged cooler to review the warranty claim.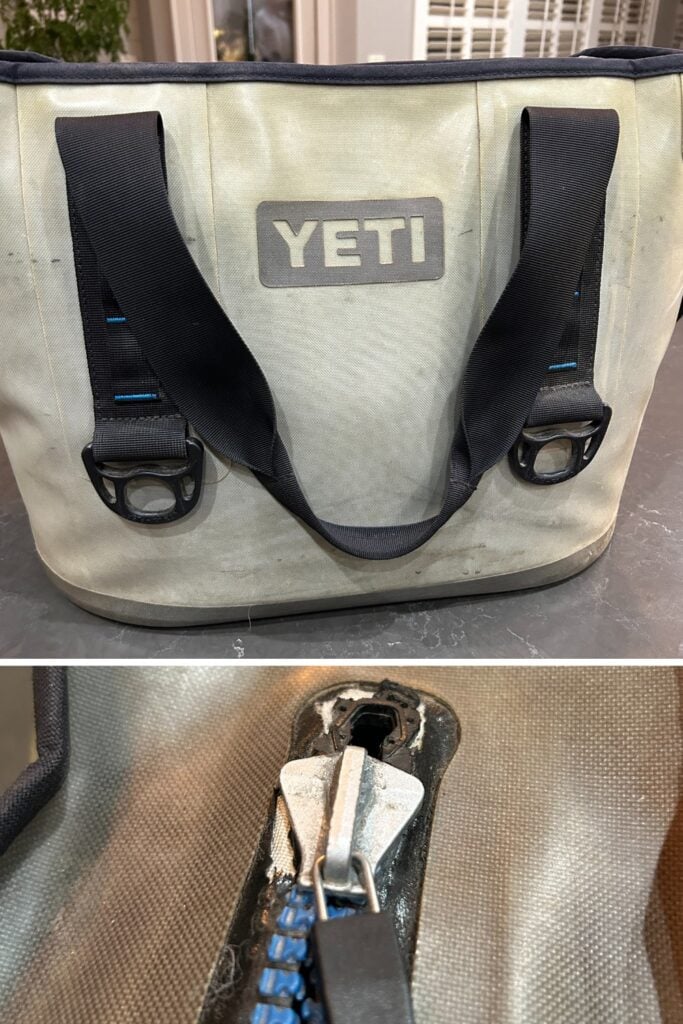 I replied with the images and the very next day I received a message saying my warranty claim had been approved. Since the Hopper 20 was no longer available, they would replace it with the Hopper 30. They just needed to know which color we wanted.
The Hopper 30 comes in several different colors, but replacement colors were only navy or grey. We chose the navy.
Return
Next, they asked me to return the old Hopper 20 and once it had been received, the new replacement would be sent.
Now I'm thinking, still, this probably isn't going to work out and I'm going to have to go through all the trouble of sending the old one back.
But they may the return so easy. They sent me a page to print off to go in the box and a shipping label. We boxed the old one up and sent it on its way.
I received an email a few days later saying the old Yeti had been received and the replacement would be sent shortly.
Well, it arrived yesterday! All in all it probably only took 3 weeks from start to finish after the initial contact with the broken zipper. I think that is a pretty remarkable service!
Customer for Life!
We have been so pleased with our Yeti products, yes, they are expensive, at least from my way of thinking. But as they say "you get what you pay for." In this case, it's a correct statement for sure.
Yeti's customer service was excellent. So while we were shopping yesterday for a gift for my brother….we got him a Hopper M30 too! I hope he likes the Navy)))
So, if you've had any doubts about what to get someone for Christmas, it's not too late to pick up a Yeti product))) They have everything from coolers, cups, chairs, bags, and backpacks, to dog dishes and beds. Sorry cat lovers, I didn't see anything listed for cats but I bet it's in the pike))
More from My Blog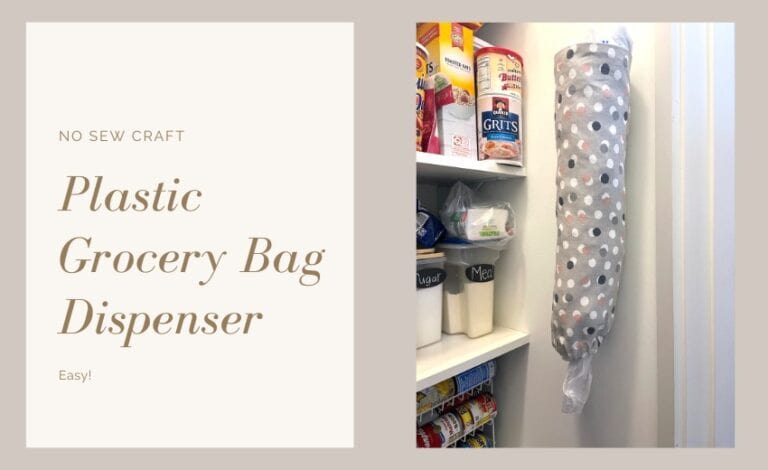 No Sew Plastic Grocery Bag Holder
Need a solution for a plastic grocery bag holder? […]
www.jeanniepence.com
Update 3/11/23
Well would you believe….our Yeti got recalled! Yep, got an email last week. We have to send it back. Something about the magnets that hold the top closed. They might come loose and we might swallow them!
Well, I'm all for safety features and I would never want a small child or pet to be injured for sure. It's not likely we are going to swallow the magnets, but we will abide by the request and send it back. They will replace it once again with another soft-sided cooler. I'm just glad all this is happening this spring while we don't use the cooler that much)))