Sunflower Wreath with Animal Print Pumpkin
Fall Swag Wreath with Sunflowers and Animal Print Pumpkin (original post 2022)
Nothing says fall more than a sunflower wreath! This gorgeous swag was created by Adam Knight of Knights Designs by Adam. Don't you just love watching inspiring designers create their magic, I know I do))) And even if you create for yourself, there is still so much you can learn from watching others.
Trendy Tree, as you may know, is my daughter Carrie and son-in-law David's business website. Well, they have a new feature they just started. Wednesday Workshop!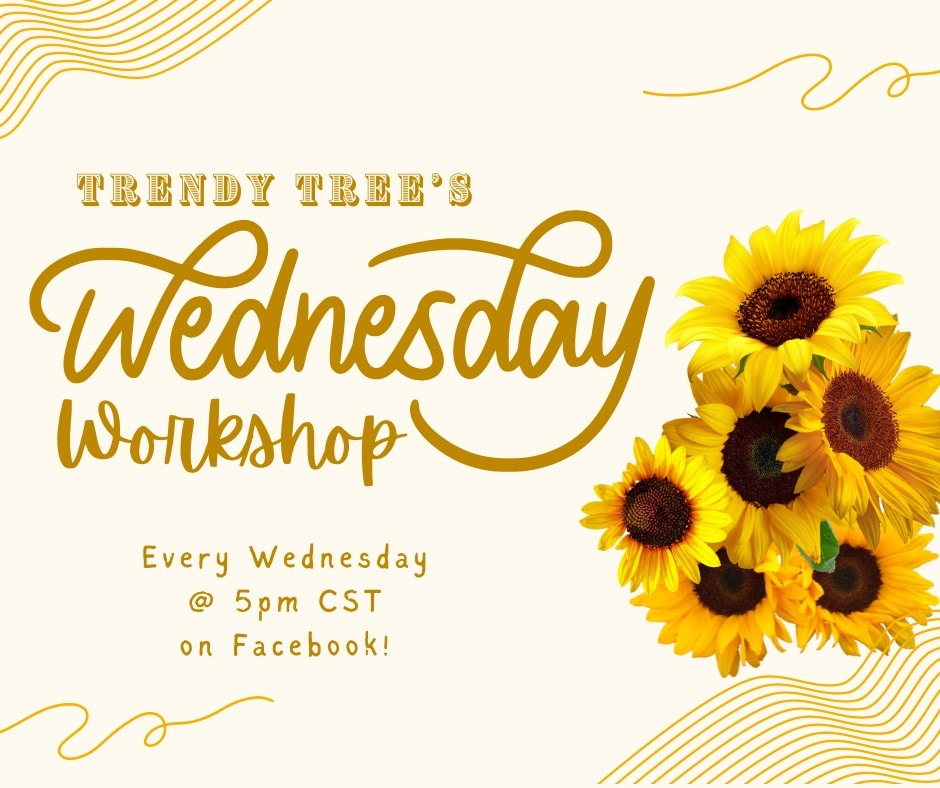 Every Wednesday at 5:00 pm CST, they will showcase a designer who will create a project. It might be a wreath, a floral arrangement, or other projects.
Just drop by the Trendy Tree Facebook page to watch the live. But, if you can't catch the live, no worries))) You can catch the replay on the Trendy Tree YouTube channel.
Wednesday Workshop
The very first Wednesday Workshop by designer Adam Knight was this beautiful sunflower wreath, swag style, pictured above featuring an animal print pumpkin sign. All the supplies came from Trendy Tree and are listed below.
Supplies from Trendy Tree
XX2034W4 24″ Burlap Swag – sold out, but a metallic gold will work: XX202908
RY8023W1 10.24 Poly Jute Natural Mesh
MD076527 Leopard Print Metal Pumpkin Sign
13114GN 15″ Plastic Green Button Grass Bush
SNF8003 Bittersweet Bush -sold out but here's a similar one: EC4050
56515OR Orange Crab Berry Wheat Bush – sold out but here's a persimmon berry bush: EW007540
61206-09-47 1.5″ Orange Argyle Ribbon
RGA818927 2.5″ Leopard Print Truck with Pumpkins Ribbon
RX9142X6 2.5″ Black White Horizontal Stripe Ribbon
Join my mailing list and get 20% off your next order at Trendy Tree!
Knights Designs by Adam
Don't worry, if you're not a crafter you can shop for a beautiful fall sunflower wreath for your front door from Adam's Etsy Shop. Here's the link: KnightDesignsByAdam
You can also visit Adam's Facebook page for more information: Knight's Designs by Adam
More Creations
Stay tuned for more tutorials from Trendy Tree that I will share. I don't create as many wreaths and projects as I used to….remember this is a retirement blog))) But I'll surely share projects from the Wednesday Workshop.
If you drop in to watch on a Wednesday, be sure and let me know you followed the link from my blog, I'll be there watching too!
More from My Blog