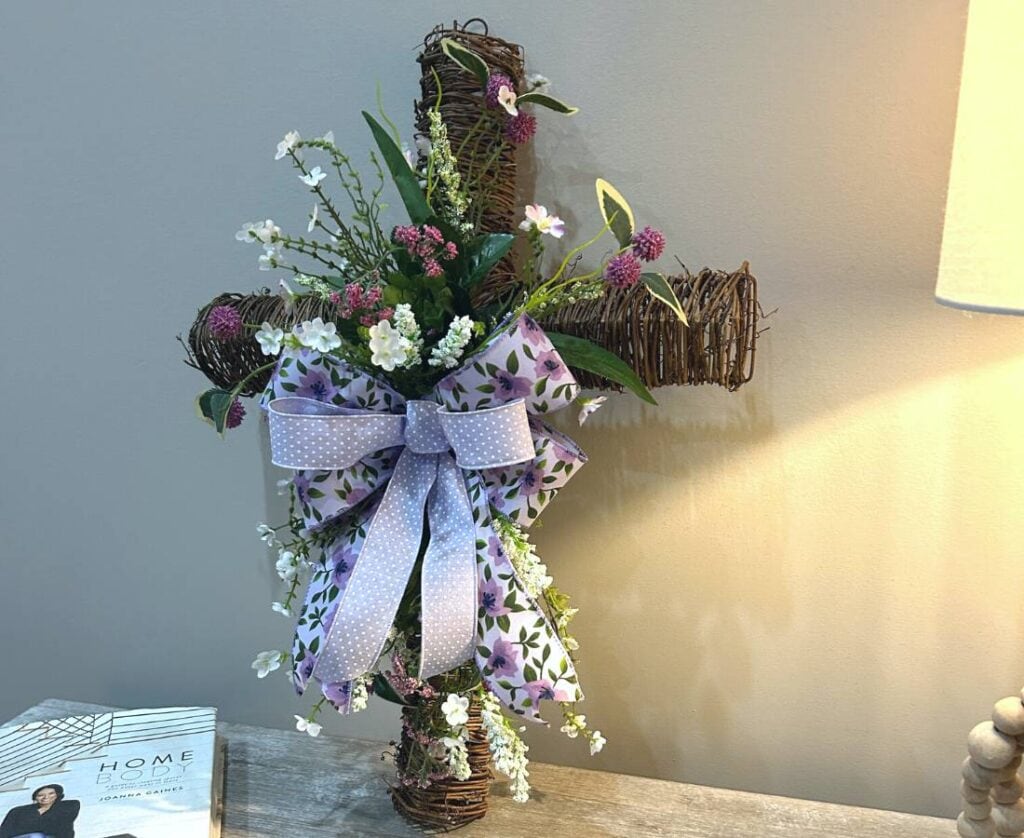 This grapevine twig cross wreath form is in stock at Trendy Tree. It's about 24″ in ht and 14.5″ in width. It was very easy to add a small floral bundle and a simple bow.
Easy DIY Project
I didn't use any hot glue on this project because I like to repurpose things later on. It will be easy to remove the floral bouquet and bow and add something new in a few weeks. The cross will make a perfect patriotic wreath too!
Supplies & tools you'll need
The products are available at Trendy Tree and the items below include my affiliate links. Some of the tools are available on Amazon.
Watch the Video
Versatility
I love the natural look of this grapevine cross. However, I am toying with the thought of painting it cream or white. My front door is dark brown and it would show up much better in a lighter color. It looks fine closeup on the door, but not much curb appeal.
I could spray paint the twig cross wreath white or ivory, change out the floral, and add a red, white, and blue bow and make it a patriotic decoration for memorial day. It would work hanging on the door from May to July 4th with a patriotic design. We'll see))) That's why I try to avoid making anything permanent so that I can repurpose it later))
Wreath Making Tips
Save leftover pieces of florals. They may come in handy later.
A small bow like the one on the cross can be made with scrap ribbon.
Use wire cutters to cut wire and not your scissors.
Check the back for anything that might scratch your door.
Clean up your craft table after each project. It makes starting a new project more fun.
Thanks!
Thanks for dropping by my blog, I appreciate it very much))) Leave me a comment if you have any questions. I love creating simple projects and sharing them with you. And I'm always looking for new ideas, so let me know what you're working on!
Subscribe to my (Trendy Tree) youtube channel