Patriotic Bow for Twig Cross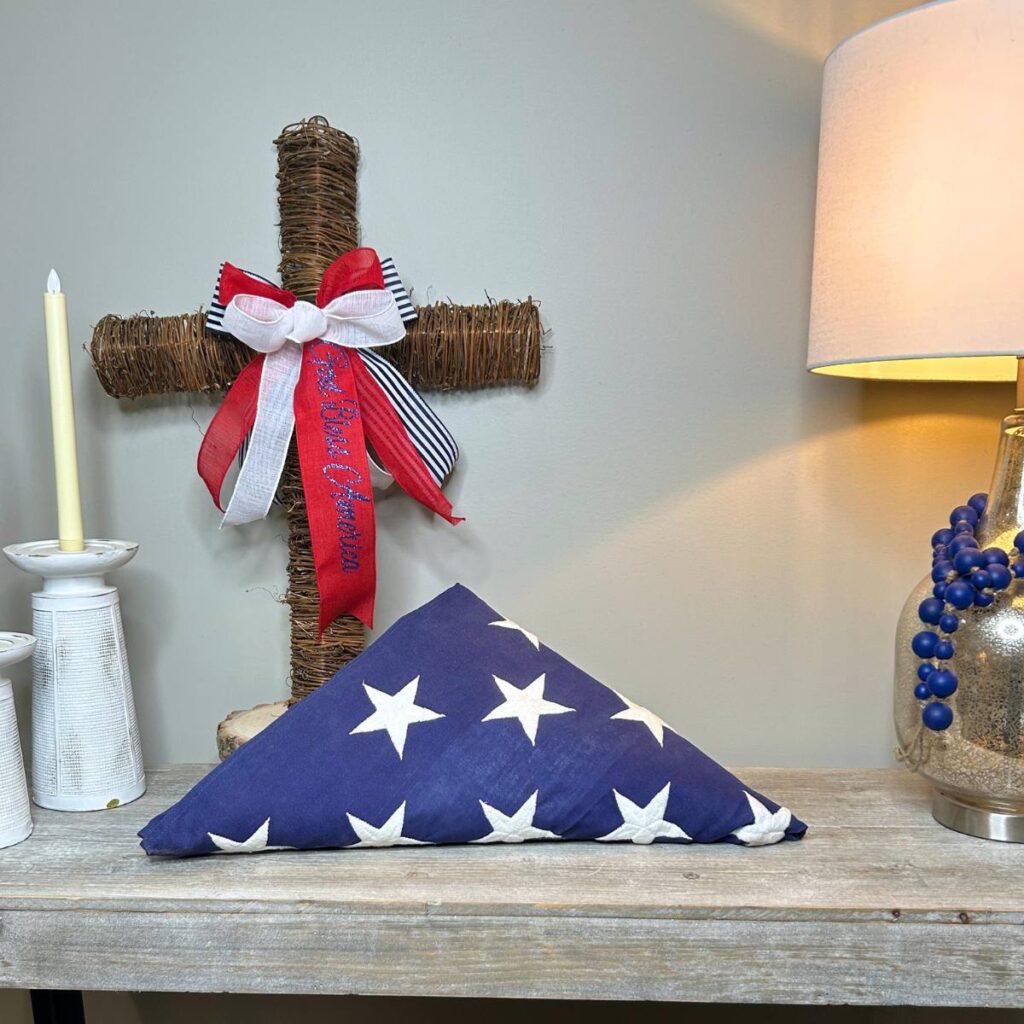 Repurpose a Twig Cross
This is a twig cross that I've had for a while. Not too long ago I decorated it with some spring florals. Today, I removed those florals and added a simple red, white, and blue Patriotic bow for Memorial Day.
This is one reason that I try to avoid using hot glue on things that I make for myself. Now, if you are selling creations it's different. But for me…I will make a bundle of flowers to attach to something like this twig cross and just snip and remove it later to do something new))
Watch the Video
You can find more video tutorials on our Youtube Channel
Supplies
Most of my ribbon came from previously used rolls from my craft room, but I'll list some suggestions from Trendy Tree for you. The twig and moss crosses are sold out right now. When they come in, you have to jump on the quickly))) But you can find something similar at Hobby Lobby. You will also need some floral wire, chenille stems, or zip ties. Here's my Amazon link for paddle wire, sometimes it's hard to find. I like to just roll off the length needed.
2.5″ Bold Stars and Stripes Ribbon
2.5″ Stars and Stripes Patriotic Ribbon
8.25″ Straight Head Cutter (only a few left)
Putting it Together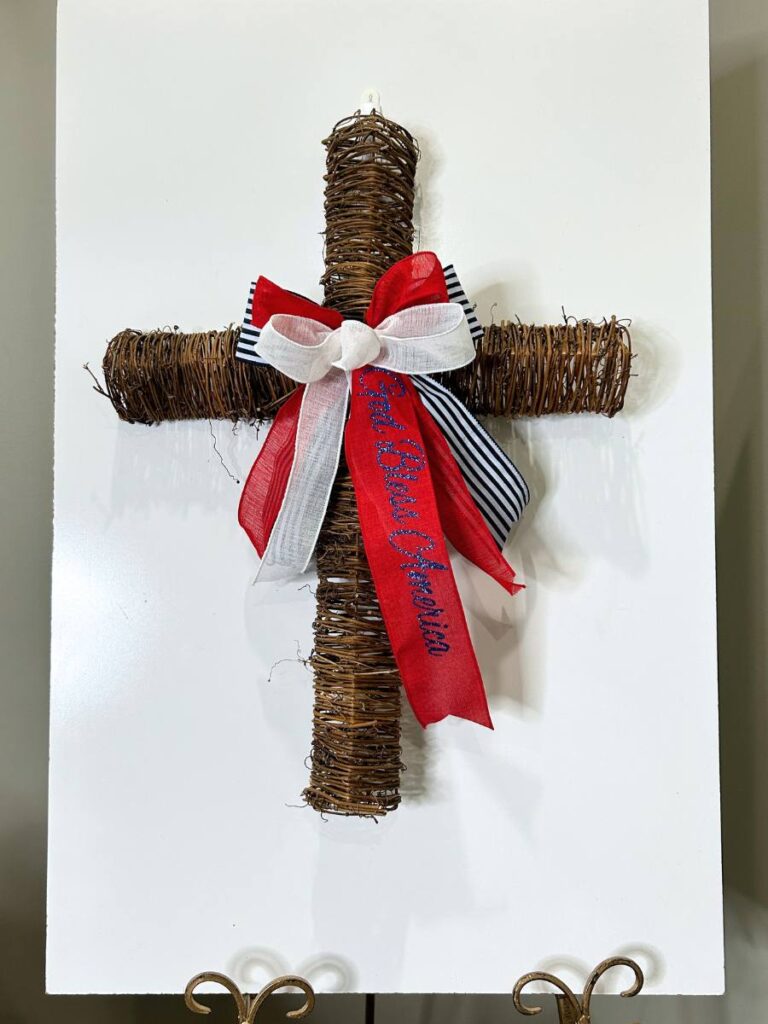 I have a floor easel in my craft room and just have a piece of pre-cut white board that I picked up at Lowes for crafting. There is a Command hook that has held up very well. Sometimes when you are working on a tabletop, it helps to move the piece to a board where you can stand in front of it and work.
The Bow
I love using the gauze-style ribbon! It is usually available at Trendy Tree in 1.5″ and 2.5″ sizes and in several colors.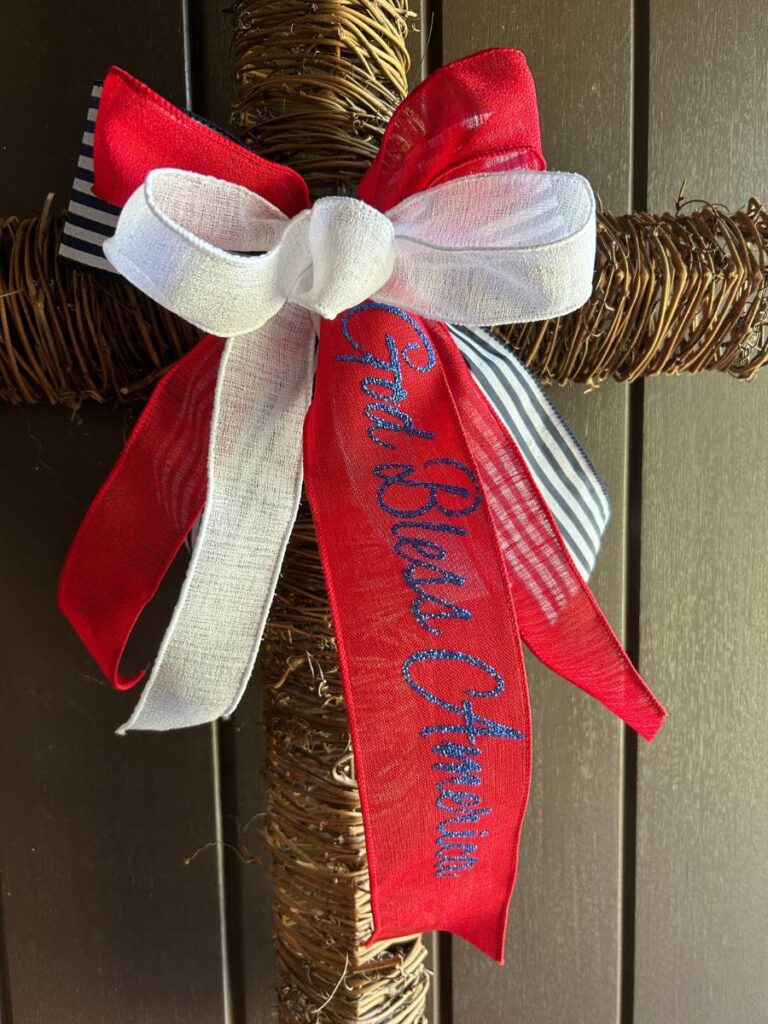 Did you notice the "fluff box" I was using in the video. You can make one from a scrap piece of lumber.
fluff your bows!
How to Make a Bow Fluffing Box
This post will show you how to make a bow fluffing box or board. Just attach your bow and fluff out the loops and tails. It's so much easier when you have both hands free! I guess calling this a box is really a misnomer, it's just a block of wood)))
The Cross
I've used this same cross on several occasions already. But mostly around Easter, Mother's Day, Memorial Day, 4th of July, and Labor Day. Just remove the old stuff and add a new floral or just a bow.
If you have some shopping to do at Trendy Tree, check out this offer!
Join my mailing list and get 20% off your next order at Trendy Tree!
Find this post helpful?
Share it on Pinterest!
I hope you have a blessed Memorial Day and let's not forget to remember and honor our fallen military.