Easy Boxwood Easter Wreath
Decorating or in my case, re-decorating, a boxwood wreath is one of the easiest ways to stay on trend with the seasons.
Here's one of the square boxwood wreaths that I decorated for Easter a while back.
Watch the Video
Premade Boxwood Wreaths
This square boxwood wreath came from Trendy Tree and it's no longer available, but something like a green premade wreath is one of the easiest ways to change your front door decor.
Do a search on Trendy Tree for boxwood to see what we have in stock: Boxwood
You can make a simple hand-tied bow using a pretty ribbon to dress up your wreath a bit. Here is a link to a tutorial for an Easy Wreath Bow too.
Our side entrance has double doors and I have two of these wreaths hanging there that I've been using for over a year now. Here are a couple of images showing how I've changed them for the seasons.
For the winter season, I added a gold bow to my wreaths. My intention was to show you how those looked on the wreath, but that image escapes me at the moment. Does that ever happen to you? I KNOW I made images….I"m sure of it))))
Anyway, here's a similar bow that I topped a lantern with. I used gold and champagne colors for my decorations and carried that same theme to my doors.
funky bow for a lantern
Here's another simple Easter decoration that so quick and easy to do. A funky bow made with six styles of ribbon and a flocked sitting bunny from Trendy Tree.
Simplify your Decorating
My point is, to save yourself some time and money. Choose a wreath that will last longer than a season. Unless you have unlimited storage in your home!
It's a heck of a lot easier to pop off a bow and add something new versus starting from scratch and creating a new wreath.
Now, this may contradict what I do and what I say sometimes))))
Here is a tutorial that I did a while back for Trendy Tree showing two ways to make a burlap bow.
Two Ways to Make a Burlap Bow
Watch this short video as we make two styles of burlap bows using…
www.trendytree.com
Carrie (my daughter) sells wreath-making supplies at Trendy Tree and I do love a Deco Mesh wreath. Typically when I make a Deco Mesh wreath for a tutorial, I use it at home or Carrie does and after the season or event has passed, we take that wreath apart and use some components of it for another project.
So, a premade wreath is just one of the tools in my arsenal))) I also like to change out tobacco baskets in the same manner. That's a post for another day though.
Here's an example of a premade boxwood wreath that I just update from time to time to fit the season or holiday.
Don't forget that you can shop Trendy Tree for stunning ribbons for all occasions.
We also sell two different bowmakers – the EZ Bowmaker and the Pro Bow. Either of these tools makes bow-making so much easier.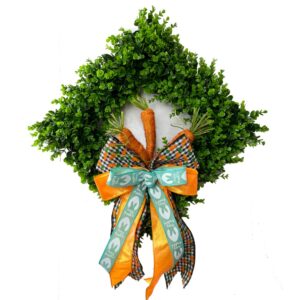 Dress up a Boxwood Wreath
Use a boxwood wreath for all seasons by changing out the decoration and add a new bow. We used some pretty spring ribbon for a bow and some whimsical raffia carrots.
Instructions
Decide whether to hang your wreath squarely or diamond shape.

Make a small floral bundle using stems, picks and/or greenery. Secure bundle with a zip tie.

Optional: Wrap the bundled stem ends with burlap twine.

Make a bow using 1-4 styles of ribbon.

Tie or secure the bow to the floral bundle.

Secure the bundle to the wreath using floral wire, or a floral pick. Add extra wire or chenille stems to secure to bundle to the wreath and to help keep it from flopping foward or to the side.

When the season or occasion changes, just pop off the bundle and add a new one!
Video
Notes
Make a small hand-tied bow if you like without using a bowmaker. They are just listed for your information. Also making a small bow is a great way to use up your scrap ribbon.