Old Forsythia Wreath Repurposed
Repurpose an Old Forsythia Wreath
I like nothing better than to breathe life into an old wreath and make it fresh and new again. This grapevine forsythia wreath was picked up at a garage sale no less than ten years ago and had been in a storage shed for a while after that. As a quick fix, my friend hung it on her door this spring until she could get something else.
My plan was to make a new bow for her wreath, but she said the flowers were falling off and she was just going to toss it. So, one day while she was at work I went over and got it off her door. Hope her neighbors didn't think I was stealing it)))
It was in pretty sad shape. The glue on the flowers had degraded over the years and the blooms were falling off. I started hot gluing the small loose stems back on, but eventually decided to just remove anything loose and just add new flowers.
Watch the Video
The grapevine forsythia wreath, even though it was old, was still fine as a base. I used three forsythia bushes, a sunflower bouquet, a sprout leaf twig, one dusty miller bush, and some odd pieces of leftover greenery from my craft room. The bow was made with scrap ribbon I had on hand.
Here are the links to the Trendy Tree products that I used:
I think the end results were great and my friend loved it. So the wreath was salvaged for a few more years!
More from My Blog
Kick Off Your Summer with a Craft

More from My Blog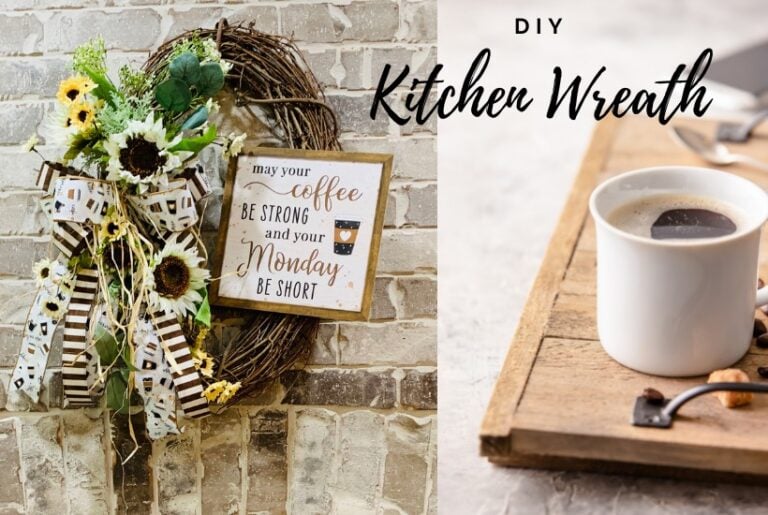 DIY Grapevine Wreath with Coffee Theme
A DIY grapevine wreath with a coffee theme is a good wreath choice for your kitchen or coffee bar. Plus, it's a wreath that you won't have to change out necessarily with the seasons if you like to make something and leave it up for a while. Now, I'm not a coffee drinker, but I …
Read More

about
www.jeanniepence.com