Red Tulip Heart-Shaped Wreath Tutorial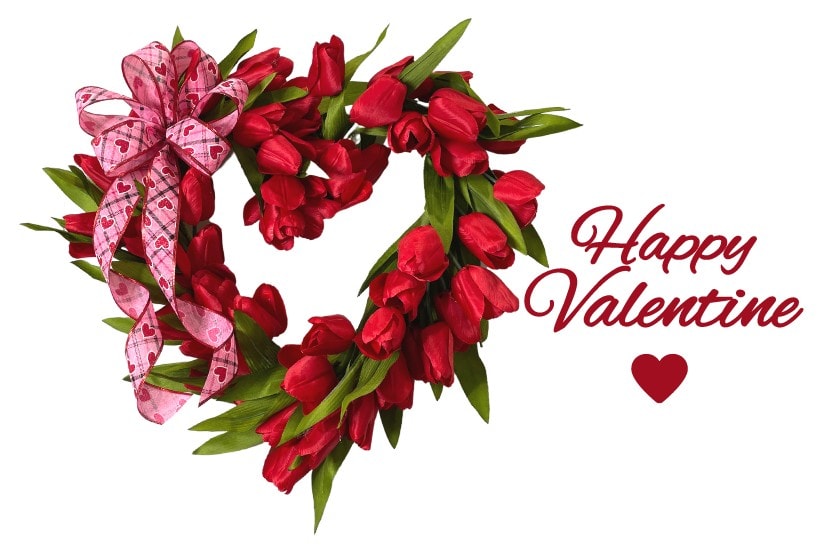 Updated Post from 2022
Looking for a little bit of Valentine's decor? Look no further! Here's an easy-to-make Valentine's heart tulip wreath tutorial that anyone can do with just a little bit of time.
Trendy Tree Supplies
15205-09-44 1.5″ Valentine Ribbon (sold out now but more suggestions are listed)
Ribbon Suggestions
11201-09-21 1.5″ White Satin Red Heart Ribbon
RGC177602 1.5″ Black with Red Black Pink Heart Ribbon
RGA859127 1.5″ Mini Roses Ribbon
Watch the Video
Decorating for Valentines
Sometimes, especially as we get older, we don't want to go all out decorating for a holiday. This tulip wreath is a perfect example of just adding a bit of Valentine's decor to your home.
I thought when I first started making it, it would be too small to go on my front door, but turns out it worked just fine. But you could also just set it on an easel on a tabletop or bookcase too.
Summary
A tulip wreath can be created in many different ways. You can use a straw wreath form, grapevine wreath, or even Styrofoam. When I make things for myself, I don't usually add hot glue or make anything permanent, but you can use a grapevine wreath and hot glue stems.
For a straw wreath or Styrofoam, you can use floral pins to hold the stems and you might want to use a little hot glue there too if you're making a permanent wreath or making a wreath to sell.
Just remember it will probably take more bunches of tulips than you were expecting! So have extras on hand, or purchase them from a place where you know you can get more if needed.
Ribbon
I used a scrap piece of ribbon to cover the frame. The wrapped frame made it a little easier to secure the stems with the paddle wire. I tucked some of the stems down into the ribbon sort of like tucking them into a pocket. But you don't have to do that.
The bow was just a simple loop bow with long tails. It only took a couple of yards of ribbon for this bow. And you might not even want a bow. I like the wreath either way))
You may have to trim the stems shorter around the points of the frame. You wouldn't have this problem if you used a round frame.
I may try another DIY tulip wreath on a straw or Styrofoam round wreath frame for spring. We still have lots of tulips in stock at Trendy Tree. Pink or yellow would really be pretty for spring.
Personally, I like tulip wreaths when the tulips are all the same color or a variation of one color. But that's just me. Choose the color(s) you love!
Have you made a tulip wreath? What technique did you use? We would love to hear about your experiences!
More from My Blog