What's Your Favorite Hydrangea Color?
It's time to start thinking about those hydrangeas that will be blooming in a few months.
My favorite color of hydrangea has to be Summer Crush!
We planted 15 of the Summer Crush hydrangeas last year and I'm hoping they survived the winter.
The white hydrangea and roses were not from my yard….though I would like to claim them))) They came from The Twig which is the fresh floral branch of Trendy Tree.
The Twig (a branch of Trendy Tree)
'Rachel Wiygul, the floral designer for Trendy Tree, creates the most beautiful bouquets for local customers and she does wedding and event flowers too. So, if you're local to Pontotoc, MS, give Trendy Tree a call (The Twig operates right out of the Trendy Tree warehouse). Rachel will be glad to fix you up! She even does a floral subscription where you can purchase a plan and have fresh flowers delivered on special occasions.
One and done! My husband loved this gift idea. Here are a couple of bouquets I received from his subscription plan last year.
Not sure what this occasion was…..probably for just being a good wife))) lol
Easter was a potted hydrangea. We finally set it out in the backyard.. I'm not sure how well hydrangeas will do in a pot, but we planted this hydrangea in a really big container so we will see. The blooms had faded in color when we planted, but still were very pretty!
I really wasn't thinking about using this image for a blog post when I took it! The purpose of it was to ask Rachel if she thought it would survive in a pot)))
Faux Hydrangeas
I love artificial or faux hydrangeas too! This RAZ blue hydrangea is also a Real Touch artificial hydrangea. It's a single-stem hydrangea.
The Real Touch artificial hydrangeas will make you reach out and touch! You honestly can't tell the silk from the real just by looking.
Need some hydrangea blooms now? Here are a few more hydrangea products that are in stock at Trendy Tree.
My Grandmother's Flowers
The blue hydrangeas remind me of those growing in my grandmother's yard. Now she had a green thumb! She could break off a branch of hydrangea and stick it in the ground and propagate it. That's all it took for her!
She only had the blue ones and they always seemed to stay the same color year after year, to my memory anyway.
Carrie has a huge bush beside her house and last year they ranged from blue to a vibrant purple. I read somewhere that if you wanted your blue hydrangeas to stay blue, use elemental sulfur. To keep the Summer Crush raspberry color, add lime to the soil.
Valentine Flowers Today!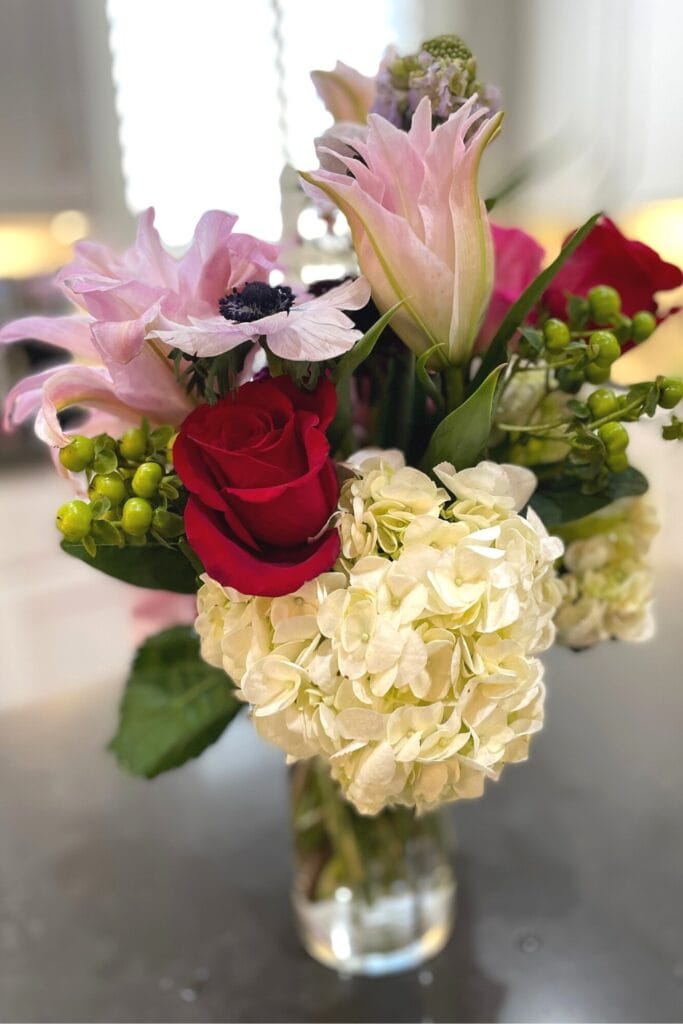 These beautiful Valentine's flowers from the Twig just arrived at my door. So pretty, they were from Carrie, David, and the kids.
I had to let my husband off the hook this year because he's recovering from surgery, but I know Carrie was looking out for him, so I got my flower fix anyway)))
Thanks for visiting my blog! Leave me a comment about your favorite color hydrangea, or better yet…..share a pic of your favorites….real or faux….we love them all))
More from My Blog
Lantern Bow with Neutral Ribbons