Crunchy Chewy Ranger Cookies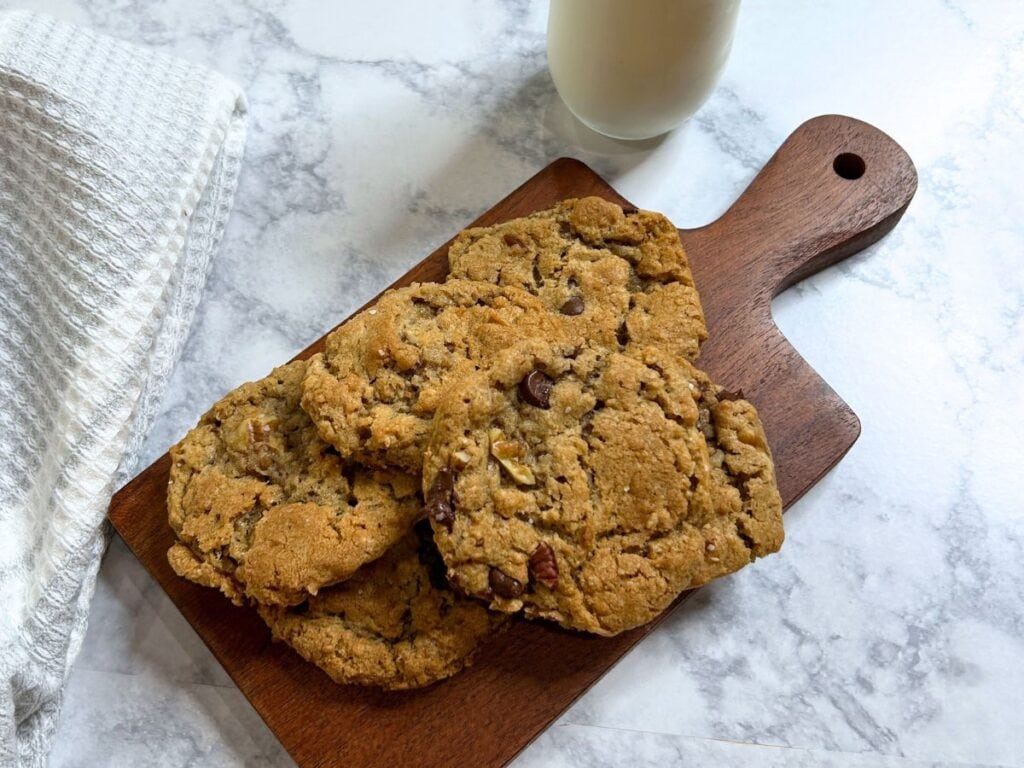 Ranger? Cowboy? Kitchen Sink? Neiman Marcus?
It's hard to settle on a name for these crunchy chewy cookies, so I'll just go with Ranger. You will see so many different versions of this cookie along with a variety of ingredient options. It's very versatile! The cookies are delicious and this recipe makes a bunch! And if you're looking for low calorie….move on, this isn't the recipe for you. But anything in moderation is okay, right? Right!
Ranger Cookie Ingredients
Step 1
Preheat oven to 325-350° My cookies baked best somewhere in between. I like to use parchment paper to line cookie sheets. Cookies bake well and there is less cleanup. And you and reuse the sheets during the baking.
Brown the butter. This is not something I have done frequently, but I think it does enhance the taste of the butter, especially for Ranger cookies. Just melt the butter in a saucepan. It will be nice and yellow at first, bubbly, and will foam. Cook over low to medium heat, stirring frequently, and allow it to brown, but not burn! Set the browned butter aside to cool a bit.
I used unsalted butter, but only because it was what was in the frig. Salted or unsalted, either should be fine. I honestly can never tell the difference anyway!
Step 2
Mix the dry ingredients (flour, baking powder, baking soda, salt, and cinnamon) together and set aside.
Cream the sugars and Crisco shortening together with a mixer. You can do it by hand, but a mixer is easier.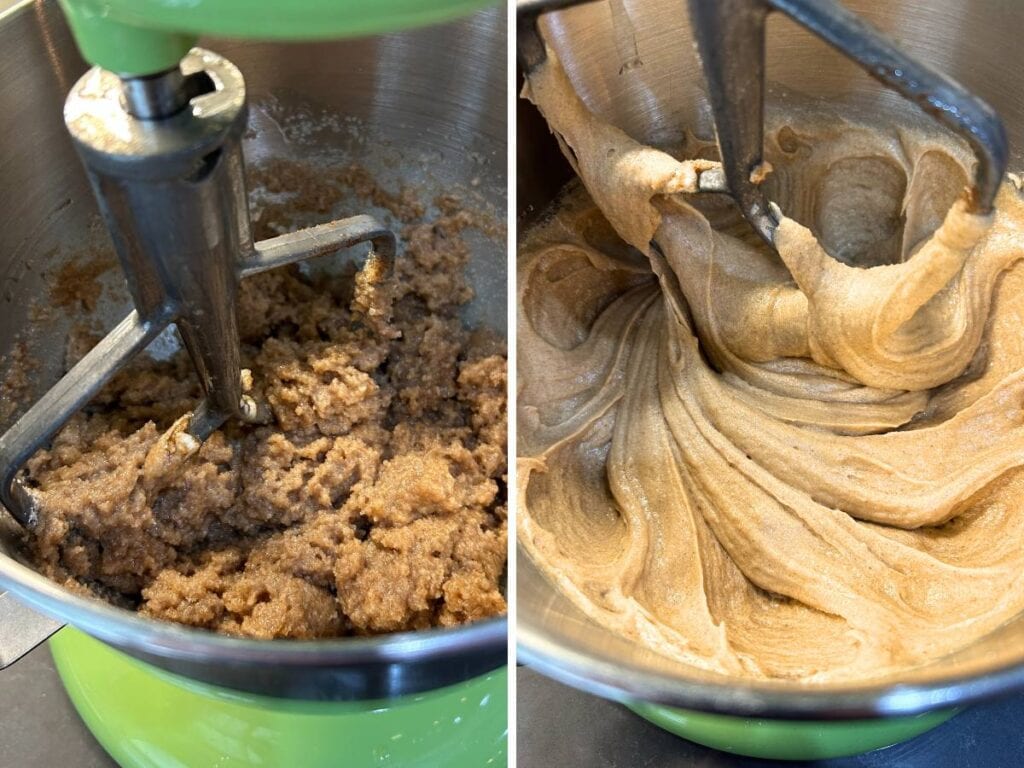 Add the eggs one at a time, and the vanilla extract. The mixture will seem a little stiff, but it thins up once you add the browned butter. Continue to mix well.
Add in the flour mixture a little at a time.
Step 3
Add the chocolate chips, nuts, and coconut. You will need to stir this by hand. Lastly, add the Rice Krispies. Stir as well as you can, but you might as well face it and get your hands in there)))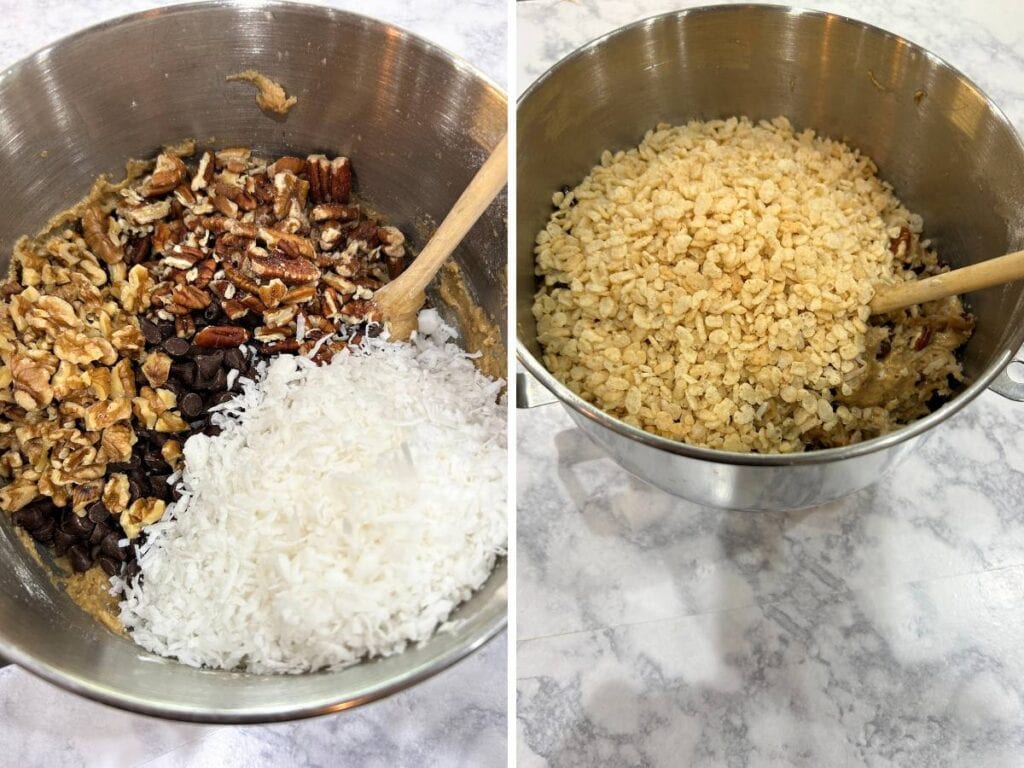 Step 4
Shape the dough into balls about the size of small walnuts. Again, this makes a lot of cookies! My balls would tend to get larger toward the bottom of the bowl)))
Also, there is a lot of fat in this recipe so the chocolate chips tend to slip out of the balls sometimes. Just press them back in before you put them on the cookie sheet. The last few balls were mostly chocolate chips and nuts!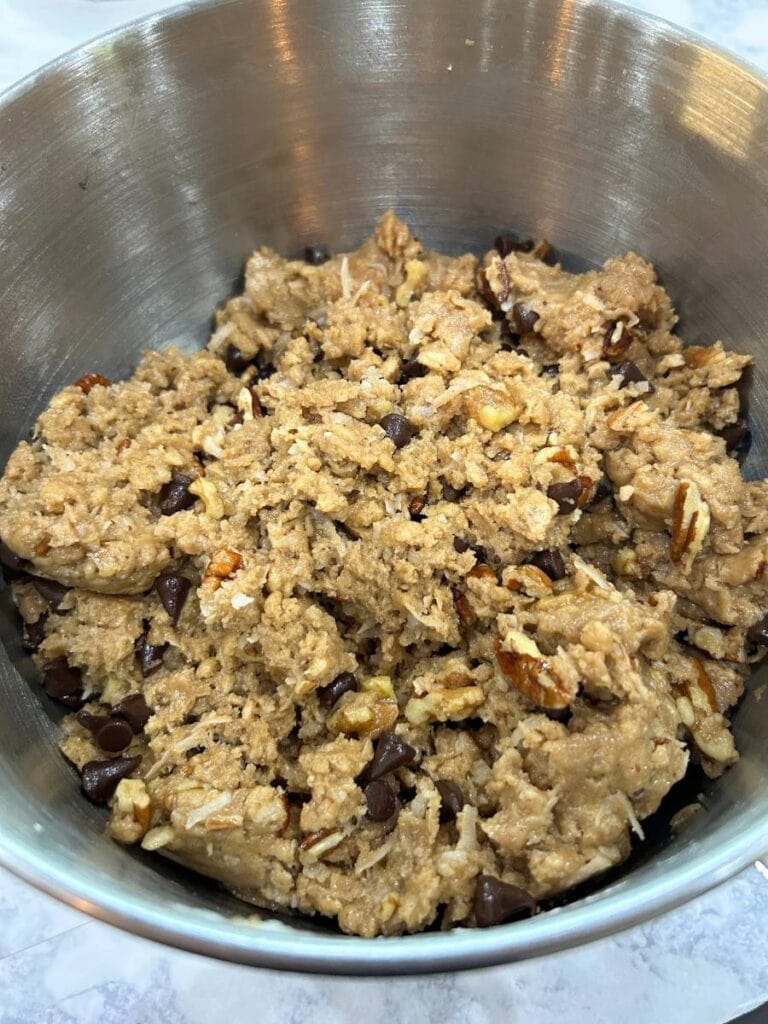 I sprinkled a tiny bit of sea salt on the balls, but this is optional. You might want to try it on a pan and taste it before you do the whole batch.
Once the Ranger cookies have been baked, let them cool a bit in the pan before transferring them to a cooling rack. This will help hold them together better before moving them.
I hate for cookies to puff up in the center! If they are puffed a little bit when you remove them from the oven, just tap the pan on the countertop (heatproof) and they will settle down nicely.
They probably would have done this once they cooled, but I didn't want to chance it. So all of my pans got a good couple of taps.
If you don't have a cooling rack just use clean newspaper, paper towels, parchment paper, or waxed paper to transfer them to. I have one nice size cooling rack so I would let them cool there while the next pan baked, then move them over to newspaper until ready to put in a container.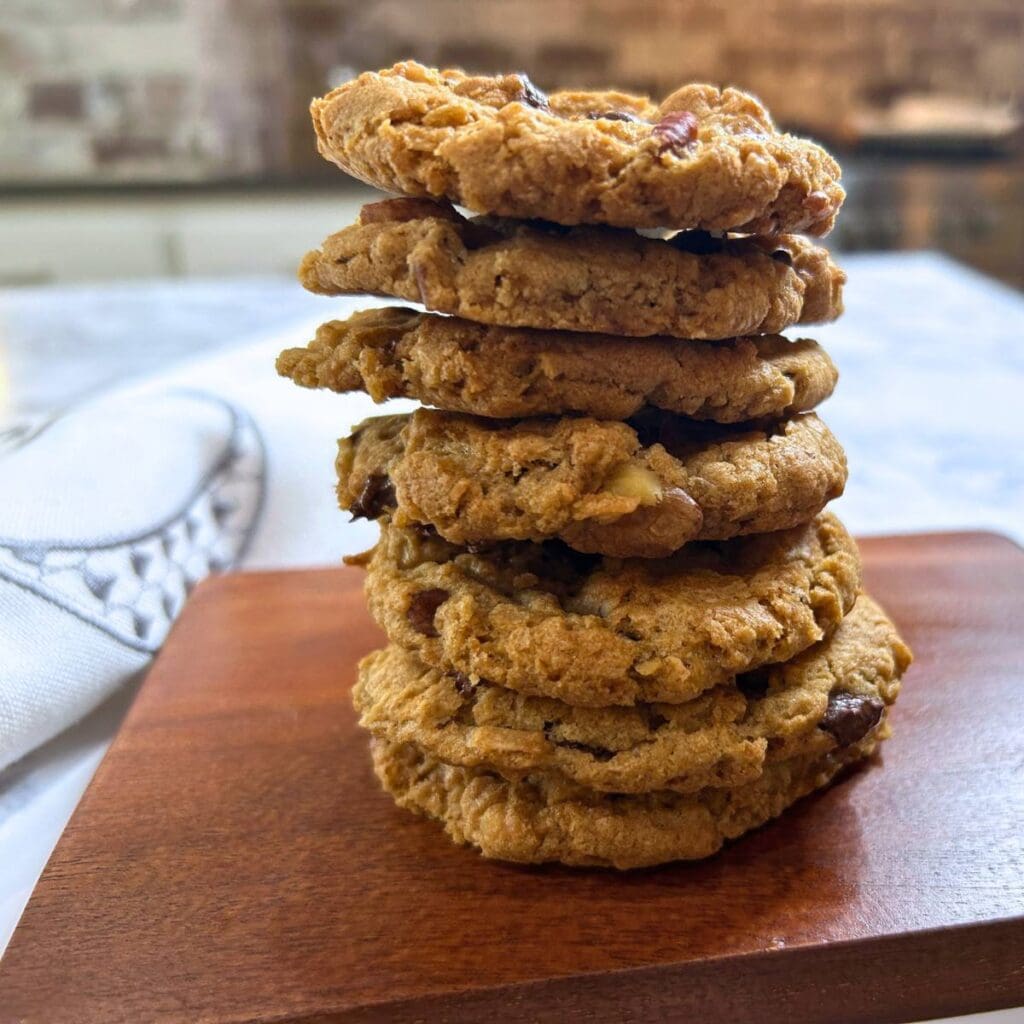 Store in a tightly covered container. This recipe made about 72 cookies….told it you was a lot! So you'll have cookies to eat, give away, and throw some if the freezer)))
Variations
Ranger cookies can be made with so many variations. The Rice Krispies add a little extra crunch, but you could use crushed cornflakes too. Some of the recipes for these cookies call for rolled oats. I've seen some that called for crushed pretzels too.
And as far as chips, you could use milk chocolate, dark, or white. I haven't tried peanut butter chips….but that sounds interesting))) Toffee bits, potato chips, or dried cranberries are other options. I guess that's where "everything but the kitchen sink" comes in.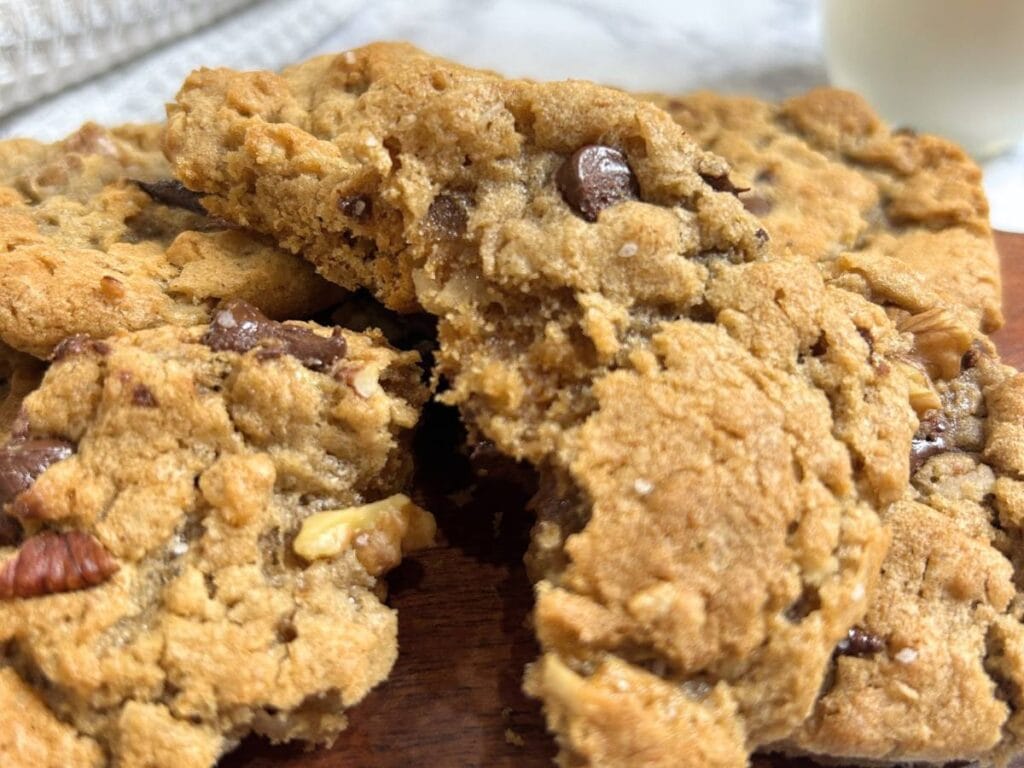 Do you prefer drop cookie recipes or rolled cookies? Drop cookies are usually less time-consuming for sure! Here's my recipe for tea cakes that are rolled out. It's a great recipe to make with kids. Even toddlers can manage a cookie-cutter)))
old family recipe
Old Fashioned Tea Cakes
What else is there to do on a cold, wintry Saturday afternoon but make some old-fashioned tea cakes))) It has been a while since I made them, but they call for pretty basic ingredients so I knew my pantry could handle it))
Print Recipe
Crunchy Chewy Ranger Cookies
Crunchy chewy cookie chocked full of chocolate chips, pecans, walnuts, coconut, and Rice Krispies for a little extra crunch. Made with regular sugar and brown sugar, and browned butter for that little extra taste. This is a big batch recipe!
Instructions
Preheat oven to 325-350° Line cookie sheet with parchment paper.

Brown butter in a saucepan. Melt and cook until golden brown color. Careful not to burn. Stir frequently, this will only take 5-7 minutes. Set aside to cool.

Mix flour, baking powder, baking soda, salt, and cinnamon together and set aside.

Cream sugars, Crisco shortening, and vanilla. Add eggs one at a time.

Add the browned butter to the sugar mixture and add the flour mixture a little at a time.

Stir in by hand the nuts, chocolate chips, and coconut. Stir the Rice Krispies in last.

Form balls the size of small walnuts and place on cookie sheet about 2" apart.

Option: Sprinkle a tiny bit of sea salt on balls.

Bake until lightly browned. Cool in pan for a few mintues before transferring to a cooling rack.

Cool completely before storing in an air-tight container.
Video
Notes
Nutritional calculations are just rough estimates.
Nutrition
Serving:
1
g
|
Calories:
155
kcal
|
Carbohydrates:
18
g
|
Protein:
2
g
|
Fat:
9
g
|
Saturated Fat:
4
g
|
Polyunsaturated Fat:
1
g
|
Monounsaturated Fat:
3
g
|
Trans Fat:
0.3
g
|
Cholesterol:
14
mg
|
Sodium:
127
mg
|
Potassium:
63
mg
|
Fiber:
1
g
|
Sugar:
10
g
|
Vitamin A:
169
IU
|
Vitamin C:
1
mg
|
Calcium:
22
mg
|
Iron:
1
mg
tasty!
Snack Attack: Sweet & Salty Walnuts
This post is a recipe for sweet and salty walnuts. Okay, I'm going to admit it, I would rather have had pecans instead of walnuts, but "they" say walnuts are healthier. So here I am……