Lantern Ideas for Everyday Decor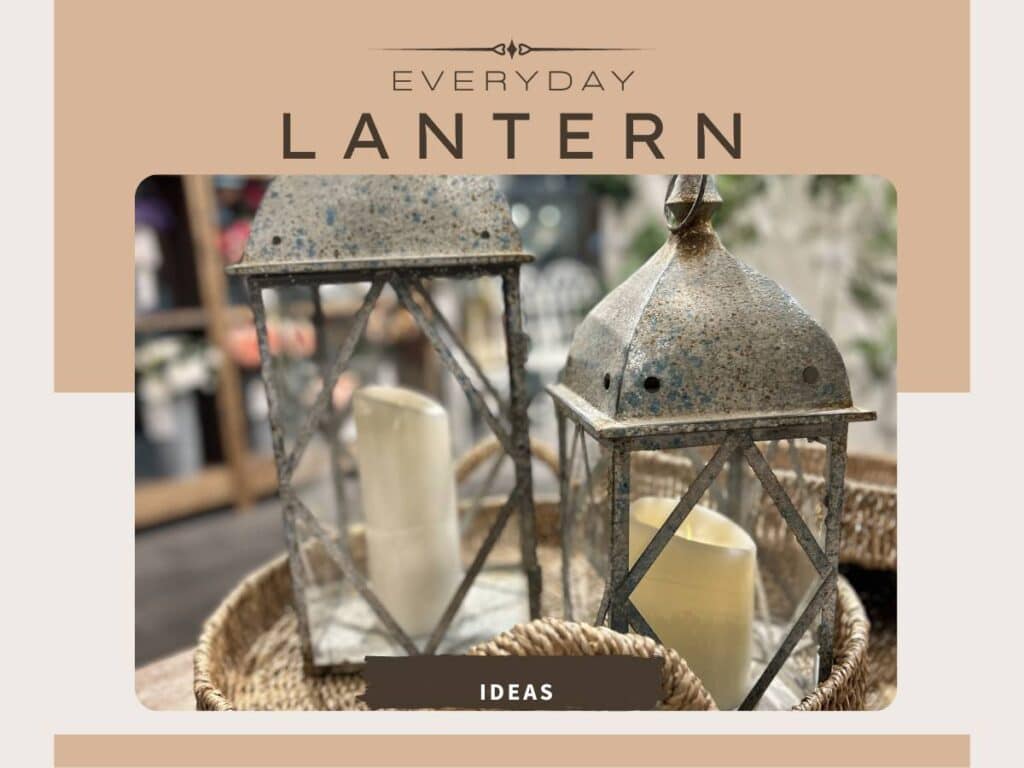 Are you looking for some lantern ideas for everyday decor?
Lantern Ideas
I'm always on the lookout for lantern ideas when I go to market with Carrie. Here are a few lantern images I took at the Dallas market recently. Most came from the RAZ, Direct Export, and Regency showrooms.
Simple Classic Lanterns
Lanterns with smooth clean lines and not an excess of design speak to my heart! I love these black metal lanterns. They are perfect for year-round decorating and lend themselves to dressing up for any season or holiday.
One easy lantern idea is to display those with different heights together. For instance, rather than placing one lantern on one end of a table and another at the other end, put the two lanterns together. Choose something else to balance out the table. Maybe something like a floral at a lower height. Let the height range from high to low going from left to right.
The first black lantern is an open style and the one above has glass sides and is open at the top. I like the washed color or distressed look of the black. Lanterns that have glass sides do restrict your decorating a little. Sometimes it's nice to be able to place florals in your lantern that extend from the sides or top.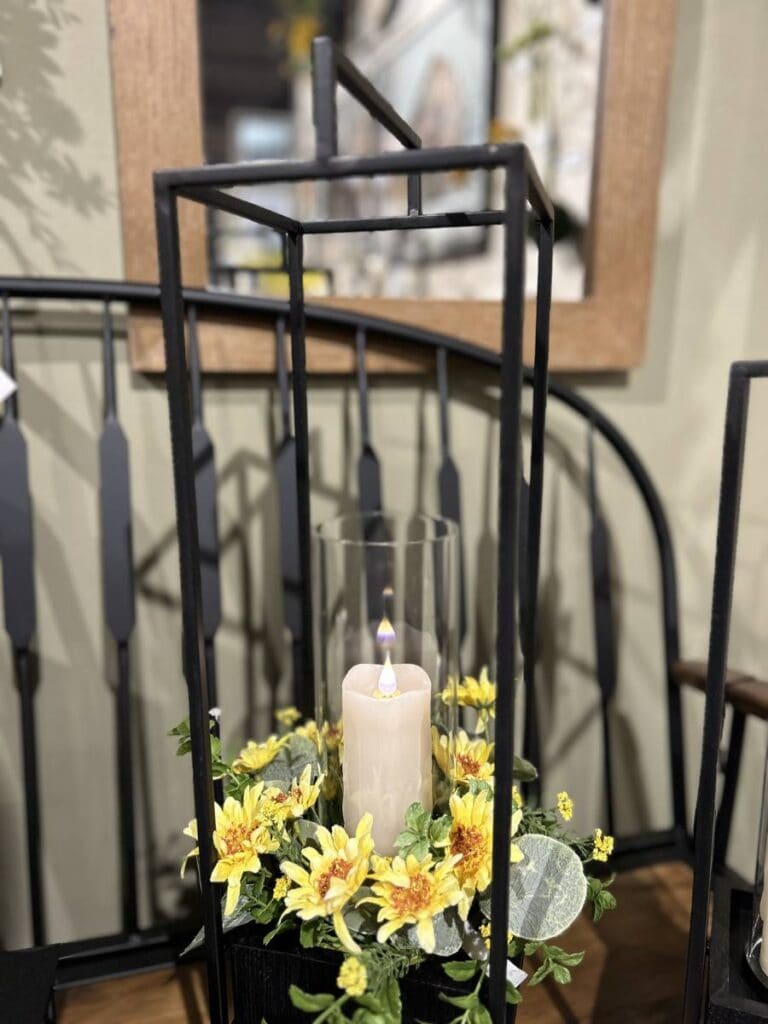 The yellow flowers just pop in this lantern. The background is a little busy, but you can still see that the lantern has open sides and a top. The battery candle is in a clear vase. The yellow floral is probably just a simple candle ring.
Farmhouse-Style Lanterns
Everyday lantern ideas wouldn't be complete without some farmhouse-style. Farmhouse-style has not gone away! Farmhouse style doesn't always mean apple-topped canisters and ruffled curtains!
To me, it's more of an everyday, simple, comfortable style, not modern of course, but a style that real families live in everyday.
These lanterns sort of have a milk bucket-type look with a round handle on top and a distressed style. Now, I'm not sold on the rolled-up pages. They are sort of scary when you see them next to candles….even if the candles are the battery type!
These everyday lanterns definitely have more of a country style with the chicken wire and birds on top. Notice the little tray of chick eggs in the back. It even has a few feathers!
Now, I grew up on a farm. We had cotton fields, cows, a barn, and chicken houses. I worked in the fields, and in the chicken houses. I've picked all the cotton and gathered all the eggs that I ever want to do))
While the lantern with the eggs has a bit of an Easter look, it's too reminiscent of farm work for me)))
Wood Lanterns
Wood lanterns whether they have glass or not, have a comfy look to me. They come in white, antique colors, and earthy tones. You just can't go wrong with any of them.
I love the expanse of glass on these lanterns. Whatever you fill them with will be easily visible and stand out nicely. The natural wood color would blend with most any decor.
Speaking of rustic lanterns, here's a post I did of a rustic Christmas tree that had lanterns decorated also. Check out how the lanterns were hanging in the video. Here's the link:
This is a good example of a white-washed lantern with open sides. The eucalyptus just extends outward a bit for a different look. And eucalyptus is a great greenery for everyday lantern ideas and is so easy to change out. Again, this sort of looks like a candle ring, or perhaps part of a eucalyptus garland curled up.
Other Market Trends
These distressed metal lanterns are displayed on a wicker tray. I just wanted to mention this because we saw a lot of wicker at the Dallas market this year. There were wicker vases, lanterns, trays, and other things. I love wicked myself, I just hate cleaning it)))
Wrapping it up
Here's an example of an everyday lantern idea that I did recently with one of my lanterns. I usually change out my lanterns for fall and Christmas and then stick with something neutral for the rest of the time.
Thanks for dropping in! I appreciate it so much. What is your favorite way to decorate a lantern? Drop me a comment and let me know. I'm always looking for new ideas)))