White River Fish House Branson MO
If you travel to Branson, MO, and have a man with you, you will visit the Bass Pro Shop. Be sure to go there at mealtime so you can eat at the White River Fish House! The restaurant is a part of the Bass Pro Shop complex. Even a visit to the Bass Pro Shop is fun, but eating at the Fish House is the icing on the cake!
Location
The floating restaurant is located on Lake Taneycomo at Branson Landing, right on Bass Pro Drive. You can't miss it! Floor-to-ceiling windows provide a panoramic view of the waters.
The White River originates in the Boston Mountains of northwest Arkansas and flows northward through southeast Missouri, then returns southeast through Arkansas to the mouth of the Mississippi River. Enough geography!
Atmosphere
The White River Fish House Branson, MO, is a perfect family dining experience. It has a fishing lodge theme with all kinds of boating and fishing-related decor. There is a bar, but it's located a bit from the dining tables.
We were there for an early evening meal and it wasn't crowded at that time. The tables were situated where you could see the river and watch the boats of fishermen. There is outdoor seating also.
The day we visited it was a bit chilly and there was a fire going in a huge fireplace in a sitting area with comfy upholstered chairs. The area would make you want to grab a book and read for a while!
The restaurant decor was interesting and chocked full of boating and fishing artifacts. There was even a full-sized original Bass Tracker housed at the top of the ceiling!
Kids will love eating at the White River Fish House too. They can explore the surroundings and see wildlife, vintage fishing gear, taxidermy displays and so much more. There are even trees used in the rustic interior structure!
My husband enjoyed looking at the vintage fishing gear. He has always been an avid bass fisherman and in the early 70s when Bass Pro started sending out their catalogs….well, that was a big event! Those thick catalogs were treasured by him and his fishing buddies. I can remember conversations like "did you get your catalog yet, mine came today!" The catalogs were the "bible" of fishing. And, I don't think he ever threw one away. I tried to a few times but got shot down very quickly. So, I didn't bother after that. Ladies you know we have to pick our battles.
Food
The food was absolutely delicious and the White River Fish House menu was extensive. It had everything from brown sugar-glazed salmon to burgers and ribs.
I didn't get great images of our plates because, by the time I remembered to take photos, it was too late! Here's a pic of the brown sugar glazed salmon and fried catfish though.
All of our entrees were delicious)) The service was excellent and even though they had a "help wanted" sign, they were still able to meet our expectations completely.
And the dessert….oh my. It was a simple peach cobbler topped with ice cream served in a cast-iron skillet. Scrumptious!
The peach cobbler served all four of us, and we didn't even have to fight over it!
Don't miss the cornbread appetizer! I don't know how we missed it, but when I visited the White River Fish House website later, I saw it! Wow….we're cornbread lovers from the south of course, but theirs really looked delicious! They even share their recipe on the website. Next time, we won't miss this!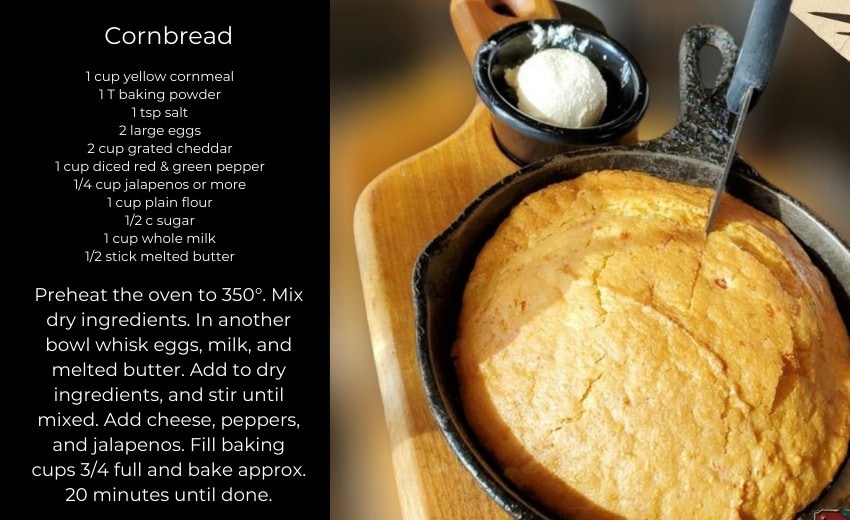 Summary
Overall, we didn't have one complaint about anything. The food at White River Fish House at Branson was great, the surroundings were comfy and peaceful and the service was excellent. Don't hesitate to make it a "must-do" on your trip to Branson. You won't be sorry.
This post is written simply for my blog, we did not receive any discounts, free meals, or anything of the sort. It's just my opinion.
More from My Blog