Lemon Coolers from Sugar Cookie Mix
Lemon Coolers – From a Mix
Take the easy way out and make a sweet treat like lemon coolers from a sugar cookie mix! That's what I did when that craving for something sweet set in.
Cookies
I wanted to make something bite-size, coated in confectioners sugar so I opted to start with a cookie mix from the pantry.
Ingredients
Sugar Cookie Mix 17.5 oz package (Betty Crocker or Best Choice)
1 egg
1 stick butter (softened, not melted)
Zest from one lemon
1/2 c confectioners sugar (for rolling the cookies in)
Directions
This is so easy, I almost hate to blog about it! Soften the butter. One stick of butter is the equivalent of 1/2 cup. If you have to use margarine, it should have at least 60% vegetable oil.
I didn't have the Betty Crocker brand and had to use Best Choice which I love too!
By the way, Best Choice Sugar Cookie Mix is the easiest way to make great-tasting tea cakes that are close to the real old-fashioned tea cakes we grew up with.
I have a recipe for the real thing, but they take more time to make since the cookies are rolled out. More work, but worth the effort too)))
comfort food
Old Fashioned Tea Cakes
What else is there to do on a cold, wintry Saturday afternoon but make some old-fashioned tea cakes))) It has been a while since I made them, but they call for pretty basic ingredients so I knew my pantry could handle it))
Mix
Stir together the mix, egg, and softened butter in a medium-sized bowl with a wooden spoon. It's amazing to me how much easier a long-handled wooden spoon is on my hands versus a metal spoon. It's not that easy to stir up and you'll eventually just get your hands in it)))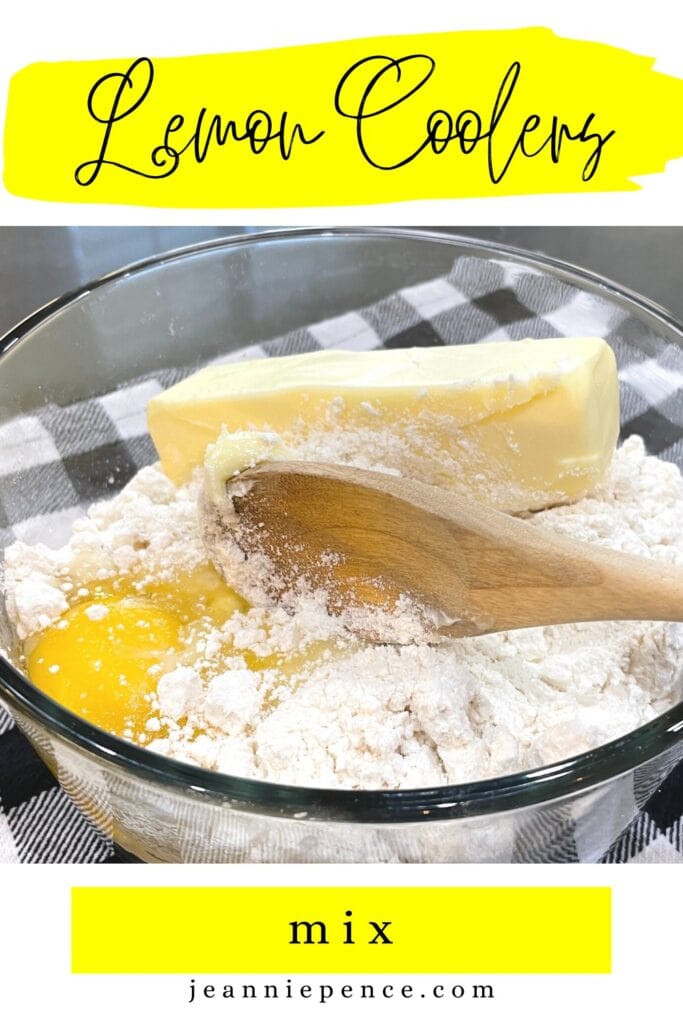 Add the zest of one lemon. Lemon zest is the outside portion of the lemon, not the white stuff. Zest can give a stronger taste than lemon juice and for this recipe, you don't need the extra liquid.
If you want a sharper lemon taste, consider adding a packet of True Lemon. A True Lemon crystallized packet equals the taste of one lemon wedge, it doesn't contain any sweetener. We use the packets in our tea sometimes when we're out of a fresh lemon.
If you want to taste the cookie mix to see if it needs more lemon, hold off on adding the egg until you are through tasting it.
Another way of adding more lemon is to use an individual lemonade drink packet. The lemonade drink packets will go a long way in cookie mix, so add and taste, add and taste.
Speaking of the brand True Lemon, we like it best for lemonade too! It makes tastier lemonade and looks more like fresh lemonade when compared to other brands. I think I'm not the only one who thinks this because it's always harder to find! Okay, enough chasing rabbits))
Go ahead and get your hands in the mix and form it into a ball. Turn it out on waxed paper on the countertop and knead a few times.
Add a bit of water to the countertop and place your waxed paper over it to keep it from sliding around when you are working with cookies.
Use a melon baller as a scoop to keep the cookies the same size.
Parchment paper means less cleanup! Reuse it too!
When the cookies come out of the oven with an irregular shape, place a small glass over the and move in a circular motion. It will result in perfectly round cookies))
Balls
Form the dough into small balls, about 3/4″ of an inch round, and place them on parchment paper-lined cookie sheet(s).
Bake
Bake according to package directions. Each oven is different. I have a convection oven and usually have to use a slightly lower temp like 300-325 degrees for about 6-7 minutes. I wanted the cookies to be done, but not necessarily brown. This results in a softer cookie.
If you want your cookies crispier, bake until lightly browned, but watch them closely.
I can't sing the praises enough about parchment paper! It's a staple at our house for baking, air frying, and sometimes just displaying food.
My husband likes the precut sheets but I prefer the roll. It makes cleaning up quicker and easier. I use it for cake pans, cookie sheets, and just about anything that goes in the oven or air fryer. Do be careful when using the air fryer. Don't add the parchment paper until after it has been preheated.
Once the cookies are done, set them aside to cool. I slide mine off onto waxed paper on the countertop. If any have run together, gently separate them.
The cookies turned out to be about the size of vanilla wafers. I love the way the tops crinkle up!
I'm not sure what the long narrow spatula is called, but my husband's grandmother gave it to me when we married. It was part of a set of kitchen utensils and it's the only one I've been able to hang on to through the years.
We've been married 52 years if that explains anything! I've guarded this spatula with my life! It's perfect for removing cookies from the pan and separating them like in the image. That's really all I've ever used it for! But you know how it is when your hubby goes rummaging around in your kitchen drawers looking for something to do this or that with…..I tell him to stay away from one of my most prized possessions))
last step – Cool & Dust
Cool the cookies a bit and then dip them one by one into confectioners sugar. If they are still a bit warm when you dip, you may want to double-dip! Dip them all, then go back and dip again. Now you have turned a package of sugar cookie mix into Lemon Coolers!
If you would like to decrease the calories a bit, try using Swerve Confectioners Sugar. I've been using it for a while now, actually, all three versions of the Swerve sugar replacement products have worked great))
This is one of my favorite Betty Crocker Sugar Cookie Mix hacks or any sugar cookie mix hack))) The cookies are pretty to look at and taste so good!
They have a light lemony taste and are on the soft side. For crunchier cookies just bake a bit longer. Everyone's tastes are different but these are one of my favorites
What's your favorite sugar cookie mix hack? Leave us a comment. We're a bunch of cookie lovers here and can't wait to try new recipes!
here are a couple more recipes for sweet treats
Rice Krispie Treats with Vanilla Filing
Baked Apples with Bacon & Cheese
Print Recipe
Lemon Coolers
Sweet, soft, lemony cookies covered in confectioners sugar. Small bite-size cookies with the light taste of lemon. So easy to make…..and from a package mix with just a little extra ingredients!
Ingredients
1

17.5 oz Package

Sugar Cookie Mix

Link is for Betty Crocker Sugar Cookie Mix which is similar. I used Best Choice which can be purchased at Price Cutter or Piggly Wiggly stores.

1

Large

Egg

1

Stick

Butter

Softened, not melted

1

Zest of one lemon

Grate peel from entire lemon.

½

Cup

Confectioners Sugar
Instructions
Line cookie sheet(s) with parchment paper and preheat oven to package directions.

Mix cookie mix, softened (not melted butter) and egg together. Mixture will be hard to stir. Use you hands if necessary.

Grate the zest of one whole lemon into the mixture. Form a ball and place on waxed paper and knead a bit until smooth.

Pinch off small pieces and roll into 3/4" balls. Place a couple of inches apart on a cookie sheet.

Bake at 350° for 7-11 minutes. Bake until done, but not really browned. Ovens vary. Mine baked at about 300 for 7 minutes and cookies came out soft. For crispier cookie bake a bit longer but watch closely.

Allow cookies to cool. Roll or dust in confectioners sugar once or twice depending on how heavy you want the coating.

Store in a covered container.
Video
Nutrition
Serving:
4
Cookies
|
Calories:
150
kcal
|
Carbohydrates:
19
g
|
Protein:
2
g
|
Fat:
14
g
|
Saturated Fat:
3.5
g
|
Polyunsaturated Fat:
0.5
g
|
Monounsaturated Fat:
2.5
g
|
Trans Fat:
1
g
|
Cholesterol:
20
mg
|
Sodium:
105
mg
|
Potassium:
20
mg
|
Sugar:
3
g
|
Vitamin A:
155
IU
|
Vitamin C:
1
mg
|
Calcium:
10
mg
|
Iron:
-1
mg