Eucalyptus Garland with Sunflowers
Eucalyptus Garland with Sunflowers
Repost from 2022: Sunflowers are great for decorating spring, summer, and fall.
A eucalyptus garland is one of the most versatile pieces of garland greenery that you can purchase. It works for spring, summer, fall, or winter! Here's a link to a DIY sunflower garland using just eucalyptus and sunflowers.
Supplies
All the supplies for this project came from Trendy Tree. I have a couple of eucalyptus garlands that I had planned to use, but for the life of me, we couldn't locate them! Does that happen to you?
Typically when I make things for myself, I try not to use hot glue or anything permanent. That's why I had planned to use my old garland, but that didn't happen so I had to get a new one from Trendy Tree. Here's what I used in my sunflower garland.
SG26142-063 60″ Eucalyptus Garland – 1
30294GDYW 22″ Sunflower Bush – 1
63045SP28 28″ Sunflower Mixed Pick – 3 (sold out but here is one very similar)
29432YW 26″ Sunflower Pick (3)
These supplies (except for the 28″ pick) are in stock right now at Trendy Tree. This was the first time I have made a garland to hang over a window. The eucalyptus garland was about 60″ and turned out to be just the right size for the arched window in my office.
Join my mailing list and get 20% off your next order at Trendy Tree!
I used small command hooks on the window trim. In hindsight, I wish I had placed the hooks just a little bit higher, but they are there now and can stay))
Versatility
I used zip ties to hold the sunflowers and picks in place. That way I can always remove them later on and re-purpose the eucalyptus garland for Christmas. It will look great with some poinsettias or other red Christmas blooms, maybe even some ornaments.
The eucalyptus sunflower garland makes a nice summer and fall decoration for my office. It's not overly done and just about the right size.
My inspiration for the sunflower garland was from the RAZ showroom at market. Of course, the RAZ designers are just outstanding and mine in no way compares to the one they created, but it is sufficient for my space)))
Sunflowers are one of my favorite blooms to decorate with. They have such a pop of color.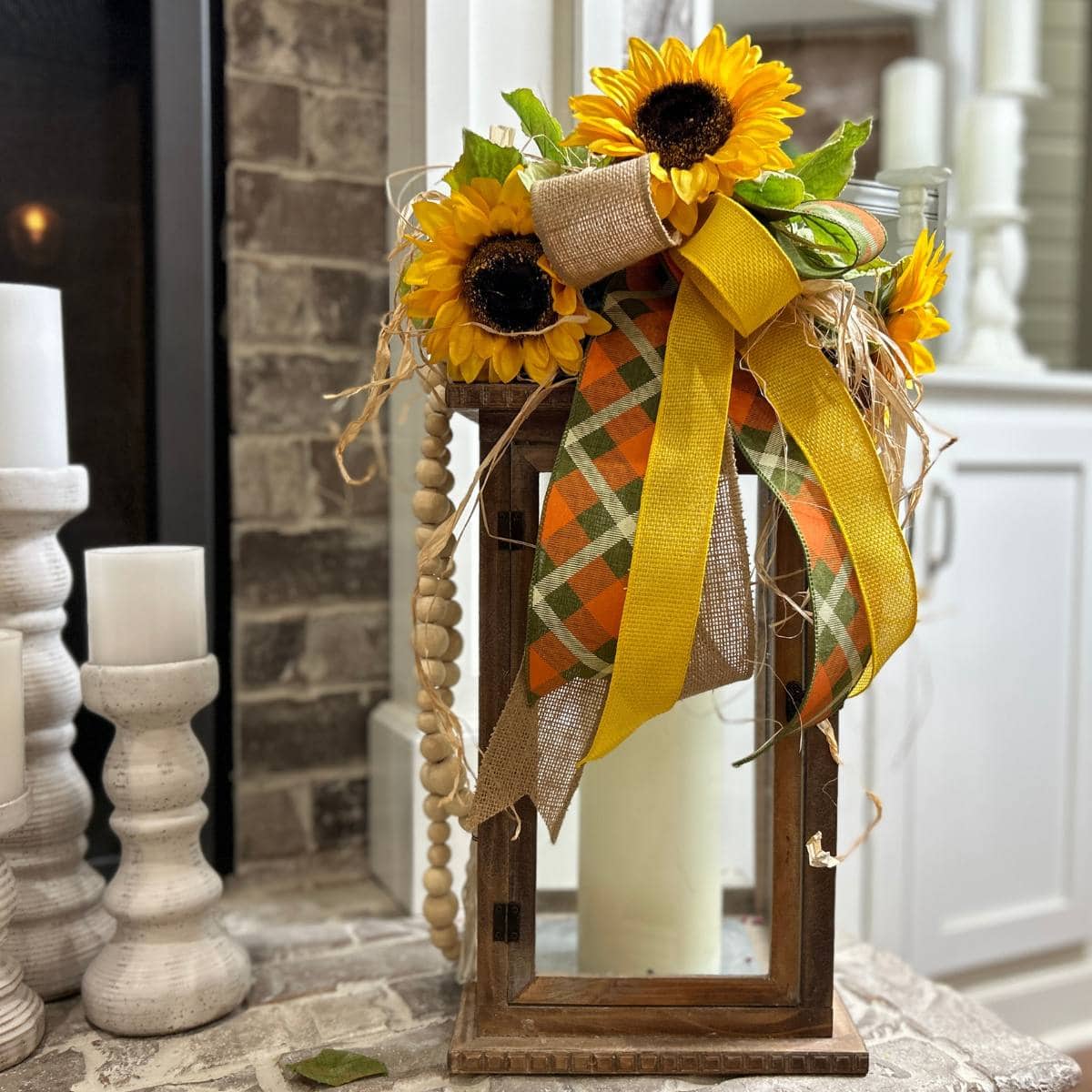 Quick Sunflower Lantern Topper
Made with leftover blooms and scrap ribbon. Never throw anything away)))
I also added a little sunflower bouquet to a tobacco basket that hangs on the wall behind my desk to pull the sunflower look together. The sunflowers are different, but they don't all have to match))
Now to start on the mantel on the back porch! Don't you just love fall)))) I do! Here's a back porch mantel I did a while back to give you some ideas.
More Fall Ideas from My Blog
Easy DIY Fabric Pumpkin with Real Stem
How to Cover Styrofoam Pumpkins with Fabric