Farmhouse Table – I Love It!
Have you ever had one of those days where you start browsing online for a specific item and go off down a rabbit hole? Well this was one of those mornings)))
Wayfair
I was browsing Wayfair for a specific type of lantern a customer had requested and ran across an ad for my farmhouse-style dining table. On sale now of course! Isn't that always the case! You find your perfect table, break down and buy it and then the next time you see it….it's on sale…go figure!
Here's my farmhouse table from a year ago. I still have it and use it every day. Now there aren't six people around it every day, but it will seat up to eight okay. Here's a pic I just took. Guess I could have moved the chairs so you could see it better.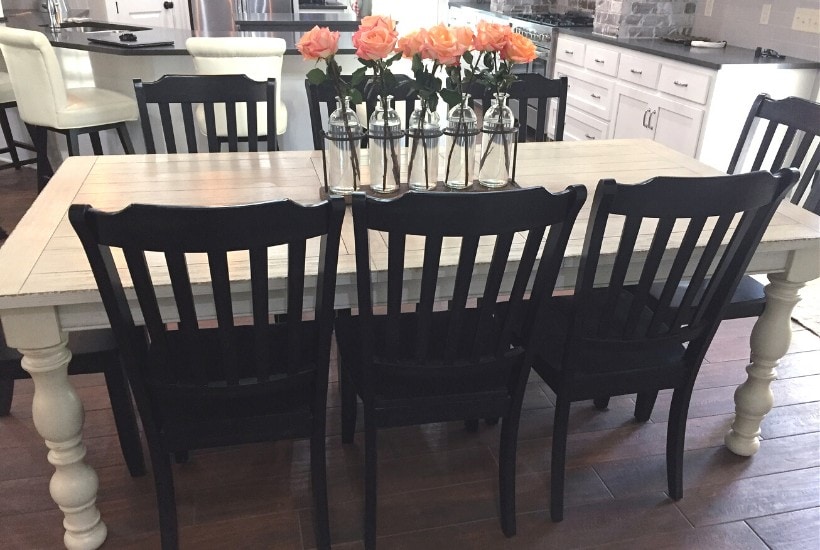 My light fixture casts a shadow on the table, but you can see the surface has held up so well. I'm very pleased with it. It's had all kinds of things on top of it. You know how it is. The dining table can be the catch-all for when you walk in the door.
Table Decor
Carrie gave me the wood and glass vase container and I've been using it on my table for a while now. Here's a link where I used it during the Christmas holidays with a different arrangement.
I make an effort to keep my table clean and free of clutter….but it's not always easy! My table came from Wayfair and I have to say, we were very pleased with their service.
Customer Service
When the table arrived, it had a small chip (about an inch) where the table goes together. It has a distressed look so had we been buying it in a store we probably would have bought it anyway. I was tempted not to even mention it to Wayfair….but it was BRAND new.
The damage didn't occur in shipping, it was very, very well packed. It had to have been a flaw in manufacturing and we really were hesitant to even mention it. I figured we would just reach out to them and maybe they would just refund a small amount to compensate which we would have been happy with.
They wanted to replace the table. My first thought was great! Then I remembered my husband had to put the table together, and although it wasn't hard, putting another table together would cut into his golf game)))
So I told them, just let it go. The table is very heavy and getting rid of the damaged table would be too much of a hardship for us. Us being seniors and all….you know how that is. So I was willing to just keep it.
They said no, they wanted to replace it and they would pick up the damaged table.
So, they shipped me another table and took the damaged one out. All we had to do was put the legs on the new table and put the leaf in.
Anyway, I just thought since I was going down that rabbit hole I'd take you with me! Now, it's back to work for me….there's a video waiting to be edited)))
More from My Blog
Point! Shoot! Publish! Wreath Photography
5 Ways to Display an Artificial Flower Bouquet