2022 RAZ Christmas Tree Ideas
RAZ Christmas tree ideas ….I know, I know! We just had Christmas, but I've had a glimpse of the 2022 RAZ Christmas trees and I know you want to see them too!
Plus, these trees give you an idea of the coming trends for the year. So sit back and enjoy this inspiration from RAZ for your 2022 Christmas tree decoration ideas.
Winter Cottage
The Winter Cottage Christmas tree has a little bit of everything! Overall, it's a gold or burnished look with lots of icy, glittery pieces. It has a combination of gold, silver, creamy white, and green natural elements. The ornaments include glass finials, snowy vine balls, birds, and wood beads. I love how the wood bead garlands are just swagged here and there and not draped all around the tree. Wood bead products were plentiful at the Dallas market this year. This tree has some ornaments with yarn tassels too.
Christmas at the Lodge
The Christmas at the Lodge tree is perfect for a cabin, cottage, or family den. It's probably one that most men would enjoy too. There are antler picks, pheasant sprays, natural colored ribbons with snowy pinecones, and lots of coppery or bronze animal-themed ornaments. Pinecone sprays add to the natural feel of this tree along with the pinecone ornaments.
I love how the ribbon is draped on this tree. No big bows or anything, just simply draped and tucked in the branches here and there. It showed the pinecones on the ribbon really well.
City of Lights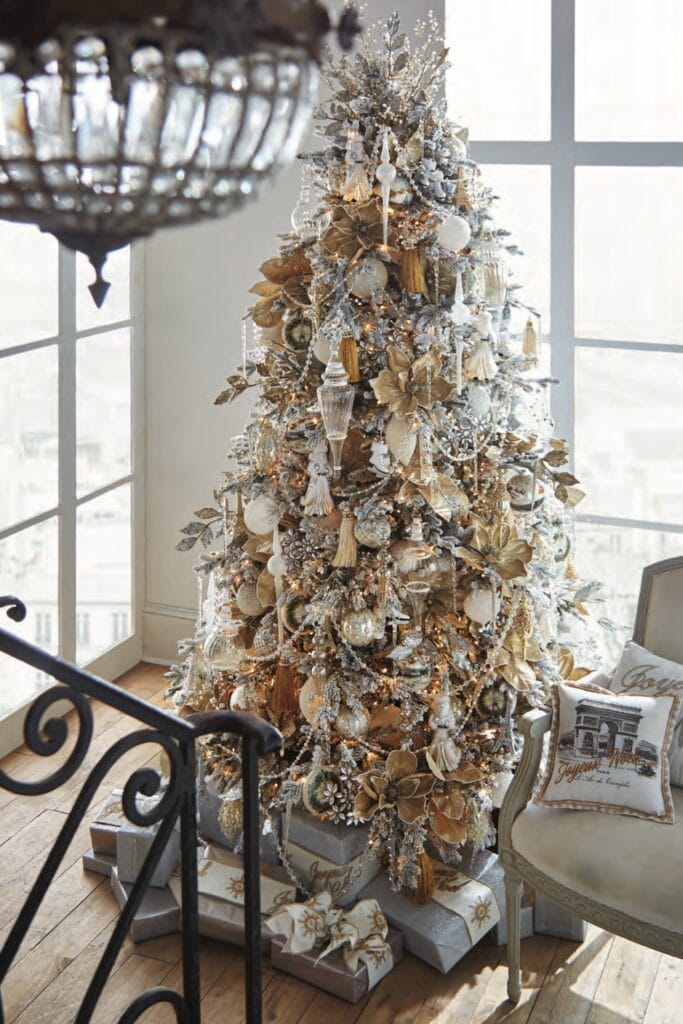 I'm seeing a lot of gold! But I promise. Keep browsing. There are snowmen, Santas, Elves, classic red and green, and whimsy still to come!
The City of Lights tree is another tree glowing in gold, silver, platinum, and white. They even carried the theme to the presents underneath the tree! Clear crystal beads, garlands, and ornaments adorn the tree. Huge gold and champagne Poinsettias encrusted with glitter really pack a wow factor. I love the combination of metallics. It tones down a brassy gold color and blends with pewter and silver. Frosted icicles and finials add to the elegance of the City of Lights tree.
Did you notice? No ribbon on this tree….none needed!
Countryside Christmas
The Countryside Christmas tree is pure color. No glitzy, glittery stuff on this tree. It has an old-fashioned look with its "ticking" style of ribbon in cream and red. Love the plaid ribbon too. The red Poinsettias are so natural-looking with their yellow center. Big bunches of white Amaryllis blooms really are showing off! Tucked in the branches you will see little birdhouses and red cardinals, iced berries, and big orb ornaments with red birds. Check out this blog post for the video and more details on the Countryside Christmas Tree: Country Christmas Tree Ideas
Cozy Christmas
The Cozy Christmas tree is a little different with more "out of the box" thinking. If you've ever tried your hand at having a "blue" Christmas tree, you will remember how much trouble it was trying to "match" the blues. Well, you don't have to! This tree has shades of royal, navy, a bit of faded denim, and even a hint of turquoise. I think the eucalyptus sprays tone down the blue with their gray-green color.
Blue poinsettias might be a bit harder to find than red, white, or gold, but they are out there! I know Trendy Tree is out of them right now, but they will have more in stock later. This is a huge tree! Big frosted pinecones and big ornaments. Lots of ribbon too! Don't be afraid to mix your plaids and patterns on your tree.
Brown paper packages with matching ribbons carry the theme right down to the floor! The brown paper packaging also complements the twig branches in the tree and the poinsettias with natural-colored edging.
Destination Christmas
Here's a Christmas tree idea that your children or grandchildren will love! Destination Christmas. This tree has many travel-related ornaments, but I see it more as a multicolor, whimsical tree with vintage decorations. When our daughter was growing up we always had multicolored lights and most of the time too when the grandkids were small. Now I've moved on to a simpler tree and always use white lights. I love the mix of reds and blues in this tree and it would be a great one for those homemade decorations. Love those big red ball sprays and garlands.
Evergreen and Gold
If you love elegance, this over-the-top Evergreen and Gold tree will be perfect for you! Rich colors from subtle to burnished golds, and deep emerald greens. Clear crystal garlands, glittery gold leaf spays, and bejeweled ornaments. Can you imagine how this tree must shine at night! This tree would be great for those ornate ornaments collected through the years.
Holiday in Provence
The Holiday in Provence Christmas tree speaks to my heart! It's reminiscent of the RAZ Holiday Spice tree that was so wildly popular last year. This year, there seem to be more florals and elegant ribbons.
I love the huge creamy white Magnolias (this is the Mississippi state tree of course so we're partial). This Christmas tree idea could be welcome in your home from September until after Christmas! It has a Williamsburg or Della Robbia feel to you don't you think?
I loved the dried orange slices and garland so much last that I tried my hand at drying some myself! They turned out okay, but to dry enough to decorate a tree would have taken me weeks if not months going at my speed. But here is the link if you'd like to try your hand at it. If you think you might want to decorate a tree this fall….start now! It's over on the Trendy Tree blog.
Making Spirits Bright
Decorating a Making Spirits Bright Christmas tree would be a fairly easy one to accomplish. Red ornaments are always plentiful! Just choose different styles, shapes, and colors from matte to shiny and frosted. And red berries! Berry balls and berry garlands adorn this tree.
They used two styles of ribbon, aren't they gorgeous! Notice how the ribbon was used on a wreath in front of a mirror. Note to self: hang a wreath in front of a mirror for a dramatic effect.
And notice the red cone trees on the table. Cone trees are back! So drag out those you bought a few years ago and dust them off, they're back in style! Course, I'm not so sure they actually ever went away)))
Merrymint
Can you say peppermints and candy canes! This Merrymint tree is so cool and fresh-looking. I swear RAZ uses trees that look so real, but I know they are not. Huge peppermint swirl ornaments and balls, and the whopping big candy pieces are eye-popping. I love the diagonal striped bucket under the tree and I have some images to show you later of another showroom tree where they used smaller buckets filled with goodies all over the tree.
Back to Merrymint! Notice the ornament swag on the window. This isn't a garland that you can purchase, it is made up of ornaments secured to a pine garland. This idea can be replicated!
No Place Like Home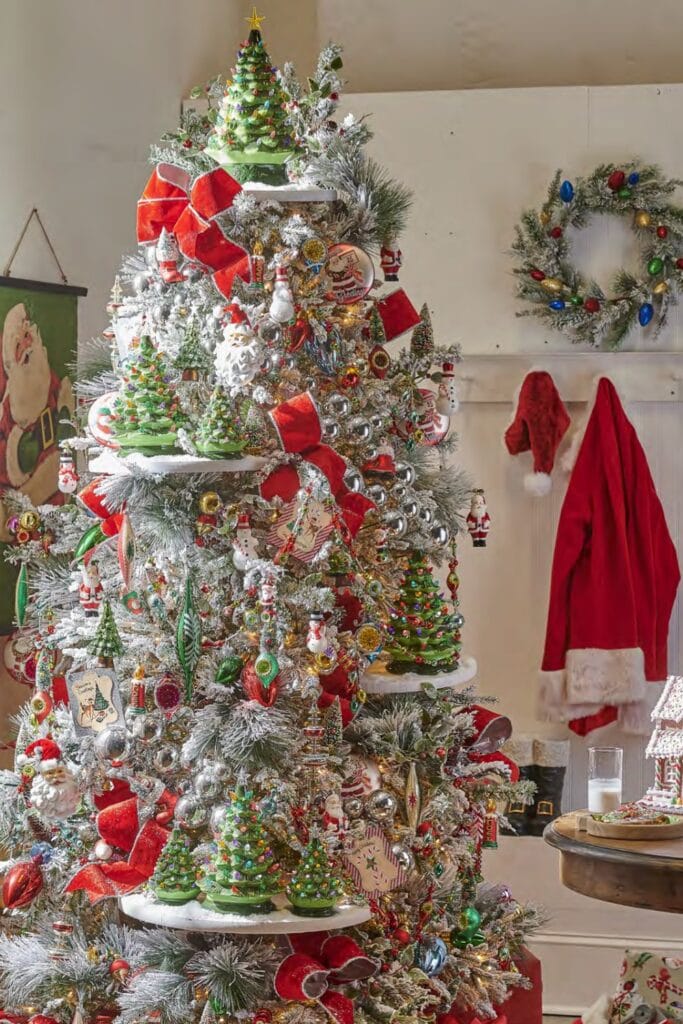 Okay, I'm just going to say it right up front. This is not one of my favorite trees. I think maybe it's because it was designed to showcase the vintage-look ceramic trees that our grandmothers had and I like those. But, I think this tree would have shown better by leaving off the shelving. It's not like RAZ to show something on a tree that they don't actually sell, but I couldn't find these "shelves" anywhere on their site. I thought maybe it was a specific tree, but the tree used in this display doesn't have shelves.
I did take some close-up photos of the shelving while in the showroom if you're interested in seeing how they did it. By the way, the images I'm sharing are RAZ stock images. I'll be adding in some of my own images later along with some video clips of the showroom trees.
Ornaments for the No Place Like Home have a vintage or retro look. There are lots of old-fashioned reflector ornaments on this tree and I love the Santa suit hanging on the wall and the boots on the floor. Who would have ever thought of decorating with that!
Tartan Tidings
More red and emerald green on this Tartan Tidings plaid tree. Oh, and there is gold! Red, green, and golds are a classic combination and another one of those styles that you can pull from your decorations of Christmases past. I believe these are just about the biggest Poinsettias I have ever seen though! Holly picks and ball garlands fill in spaces in the tree.
Collected Christmas
Well, maybe I'm being too picky today to be writing, but as much as I love multicolor Christmas decorations, this combination doesn't do it for me. I mean, I love the big shiny ball ornaments in all the bright colors and the gold trim. But it seems like the ginger jar style ornaments and some of the other patterns just don't fit!
Collected Christmas….maybe that means, just putting everything you have on the tree? I think I could remove some of the decorations from this tree and make it a favorite though. Am I wrong? What do you think?
I do like the ball ornament wreath on the wall, but I probably would have mixed up the colors instead of segments of color. A ball ornament wreath is on my "to-do" list. Have you made one?
North Pole Friends
The North Pole Friends Christmas tree inspiration is full of penguins, polar bears, and snowballs! This theme calls for a flocked tree loaded with snowball garlands, picks, and ornaments. Emerald green and red for pops of color amidst all the snow. Lighted white reindeer are standing all around. There are touches of plaid here and there. Another tree the kids will adore!
More Christmas Tree Decoration Ideas to Come!
Be sure to subscribe to my blog because I'll be posting more Christmas tree ideas along with mantel inspiration, lantern and window decorations, and more!
As time permits, I'll break down each one of these 2022 RAZ trees and give you more information on the specific decorations that they used, along with some links and suggestions for alternatives.
Leave me a comment and let me know what you liked, or didn't like, about a specific tree. I look forward to hearing from you!
More Christmas Inspiration
Fruitcake – Love it or Hate it